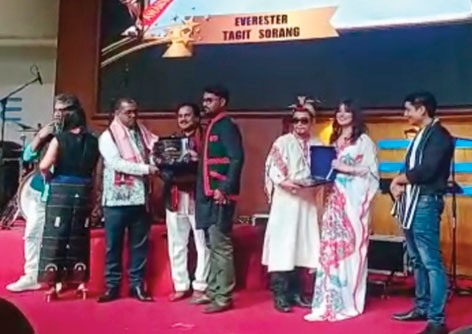 ITANAGAR, 13 May: Arunachali Everester Tagit Sorang and an NGO received the Northeast Unsung Heroes Red Carpet Award-2021 on 12 May at the Bombay Stock Exchange in Mumbai.
Sorang, who scaled the highest peak in the world on 31 May, 2021, is also the first Indian to join the NIMAS and the IMF Winter Trekking-2021 in Dirang in West Kameng district.
He was chosen for the award for his contribution to the society through adventure sports.
The Green Squad Team, an NGO working for the betterment of humanity and environment, received the award in the social sector category for taking the initiative to make recycling easy to adopt by common people through its 'magic bag' initiative to stop littering and open burning of waste.
Around 32 'unsung heroes' of the eight states of Northeast India will be recognised for their silent contributions to the society.
 "The aphorism of this event is not only to recognise the silent contributions to the society in the field of 'social', but also will help many others, including people to rise further from different walks of life," Rebecca Changkija Sema and Jutikaa Molahata of the 'Northeast Unsung Heroes' said, according to a release from Sorang.