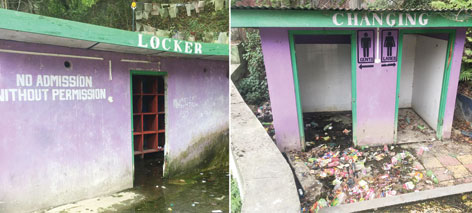 [ Bengia Ajum ]
DIRANG, 15 May: The hot water spring here in West Kameng district, located on the way to Tawang district , a very popular tourist attraction is in a pitiable condition.
Tourists from across India come to take a bath in it as its water is believed to cure several diseases and reportedly has medicinal values.
The state government had created infrastructure in the vicinity of the spring with the aim of promoting it as a tourist destination.
Infrastructure like toilets, locker rooms, shower rooms, and change rooms had been constructed for the tourists. These facilities were inaugurated by former chief secretary Shakuntala D Gamlin in 2017. However, at present these facilities lie in a completely dilapidated condition. Lack of care has turned them into a garbage dumping zone. Most of the infrastructure has been badly damaged and has been completely abandoned by the administration.
Dr MS Awan, a linguist from Manipur who visited the Dirang hot water spring, expressed bitter disappointment after seeing its pathetic condition.
"Seeing the poor condition of the hot spring spot area, my excitement turned into disappointment. The pool water was stagnant and the surrounding area was full of garbage. Being one of the top attractions of Dirang for the tourists, proper maintenance and renovation are highly required," said Dr Awan.
Another tourist expressed concern over the pathetic condition of the infrastructure and called upon everyone to come together and save the hot water spring.
"Creating infrastructures is of no use unless it is properly maintained and regulated. It is a loss to the state exchequer, especially of the tourism department, when such infrastructures are unable to generate revenues for the department and the state. All stakeholders, like the tourism department, local representatives, local residents, and visitors/tourists must think about it," he said.
Due to the unhygienic condition of the area, visitors have stopped taking baths there. "I came from outside Arunachal and wanted to take a bath as we had heard this water cures many ailments. But seeing the unhygienic surrounding, I just dipped my hand in the hot water spring. I urge the local officials to take care of the hot water spring as many tourists like me keep it as part of the itinerary while visiting Dirang," another tourist said.