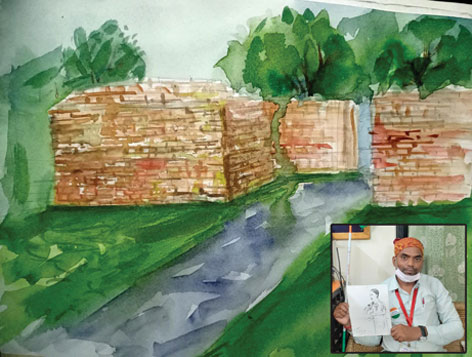 Staff Reporter
ITANAGAR, 15 May: For most people, travelling is a passion and a way of living nowadays.
But artist Alpula Pocham, of Telengana, has been travelling to various states for the last five years with a mission to capture the real India, the country's rich cultural diversities and the exotic landscapes, through paintings.
The artist, who embarked on his pan-India 'Kala Yatra (Kashmir to Kanyakumari)' in December 2017, arrived in Itanagar from Manipur on 13 May after travelling 20 states.
Upon arrival here, he visited the gonpa, the Itafort site and IG Park, and drew a few paintings on tribal traditional houses, attires and the views near Itafort.
The 32-year-old artist draws from anything that he sees around him on the spot. He has so far painted more than 13, 000 paintings.
"My aim is to explore the real beauty of India, the rich culture and tradition of the people and capture them with paintings for the future generations," Pocham said.
Inspired by his teacher Satyanarayan, Pocham started drawing when he was in Class 8. Later, he did his master's degree in fine arts and painting from the Indira Kala Sangeet Vishwavidyala, Khairagarh, Chattishgarh.
He said that his paintings are not for sale. But some people, impressed by his work, offer help in form of cash.
Pocham said that he has had to halt at a place on many occasions due to fund constraints, and that he would move to his next destination only after managing some money from well-wishers.
He also has plans to visit Pasighat, Roing and adjoining places during his 15-day stay in the state. He will be leaving for Roing in Lower Dibang Dibang Valley district on Monday. His next destination is Meghalaya.
Pocham said that he plans to end his cross-country journey in the early months of next year.