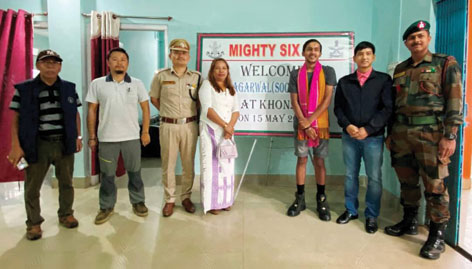 KHONSA, 15 May: Rohan Agarwal (20) from Kamthi (Maharashtra), who is on a mission to start a global campaign against the use of plastic, reached Tirap district on Sunday.
Agarwal was welcomed by Khonsa West MLA Chakat Aboh, Tirap DC Taro Mize, SP Kardak Riba, the Assam Rifles, and HoDs at the circuit house here.
Aboh and Mize commended Agarwal on his endeavour and wished him luck for his journeys ahead to other parts of the country and abroad.
Agarwal stated that he is following "the ancient India gurukul culture of journey called 'destan' to understand different religions, languages, cultures and people to broaden my outlook on life."
He appealed to the state's youths to stay away from drug addiction and work towards preserving and promoting their indigenous cultures. (DIPRO)