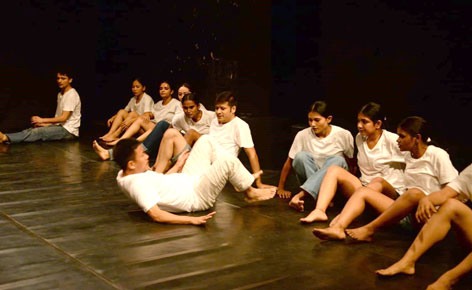 Monday Musing
[ Nellie N Manpoong ]
Theatre actor Riken Ngomle has come a long way since he started his theatrical journey in 2010 and has seen his share of ups and downs in the nearly nonexistent theatre world of Arunachal Pradesh in the past 12 years.
An assistant professor in the Hyderabad Central University (HCU) as well as the National School of Drama (NSD), Ngomle had in 2016 directed 'Main Arunachal', a play on the evolution of Arunachal, at the Indira Gandhi Park in Itanagar. He has also held several workshops on acting, direction and cinematography in the state, and staged a shadow puppet play on the theme of Swachh Bharat Abhiyan during one of the National Press Day celebrations on a very short notice in Itanagar.
These productions may not have received their fair share of attention due to unforeseen circumstances, but his most recently directed play, 'Arunachal – Ek Safarnama', has been receiving accolades from all corners even after months since it was first showcased at the Dorjee Khandu Convention Centre in Itanagar as part of the golden jubilee celebration of Arunachal Pradesh. It received a resounding response from audiences when it was first showcased in February and continued its magic at the multipurpose hall in Namsai on 7 and 8 May this year.
Connoisseurs and enthusiasts of the performing arts have been open to show their appreciation. While Chief Minister Pema Khandu and Bollywood director Imtiaz Ali went on social media to express their admiration for Ngomle and all the actors, Deputy Chief Minister Chowna Mein has already taken initiatives by assuring to establish a theatre hall to nurture talents in the performing arts.
Ngomle, who is also an alumnus of the NSD with a postgraduate diploma in acting, reiterates how the NSD opened him up to the world of theatre. However, artists have always had to endure difficult times and Ngomle too had to face rejections while seeking funds for his theatre productions in Arunachal. And at some point, he said he felt disconnected from his art.
"I started losing my creativity and I don't like using the term, but I felt like a broker trying to sell my art, and I decided to work outside the state and started teaching acting in the HCU," Ngomle said.
At the same time, he credited his family, friends and close associates for believing in his vision in his early stages of struggle, which he said kept him going. As such, between 2016 and 2020, he conducted several workshops in the state and produced some quality theatre students, who he later encouraged to study in the NSD and the HCU.
"We now have three to four NSD graduate students from the state," he said.
Even though he had been putting in all his efforts into theatre for years, people in Arunachal truly started paying attention when he was appointed as an assistant professor at the NSD in 2021.
"That was a turning point for me and those who had always believed in my vision helped me move further," he said.
On the response of the audiences towards Arunachal – Ek Safarnama, Ngomle said that "it has been overwhelming."
"However, I and all future theatre artists have a bigger challenge in front of us – on how to sustain this spree, this enthusiasm for theatre, and how to maintain quality production. Of course, all productions will not receive the same response; some will do well and some not so well, but it all comes down to how much heart and soul you've poured into your work," he said.
Speaking about some of his future projects, Ngomle said that the Theatre-in-Education Company, of which he is the chief, has signed a memorandum of understanding with the government of Delhi, with the objective of introducing theatre as a subject from the primary level.
"Our TIE Company will send experts to teach theatre in schools, and teachers will also be trained to take a more fun approach in classroom teaching by using theatre tools to make subjects easier and learning more interesting. Theatre will not only help students get exposure but also help express themselves better. I hope we can do a similar tie-up with the government of Arunachal in the future," Ngomle said.
Additionally, as part of the Azadi ka Amrit Mahotsav, Ngomle and his team will produce plays on the Anglo-Abor war, the Khamti war and the Wancho war.
"It will be a 15-day theatre festival which will be showcased in August this year. This is an initiative of Deputy Chief Minister Chowna Mein. He has immense respect for the arts and artists, and he believes that art can serve as a medium to bring out the best in a person," Ngomle said.
Regarding Arunachal's future in theatre, he said, "The cultures of Assam and Manipur are known throughout the world because of their theatre, and I want the same recognition for the state of Arunachal Pradesh in my lifetime, for which I will continue to dedicate my life to theatre."
"Theatre is not a one-man job. It requires a team," added Ngomle as he looks forward to taking theatre to newer heights in Arunachal.