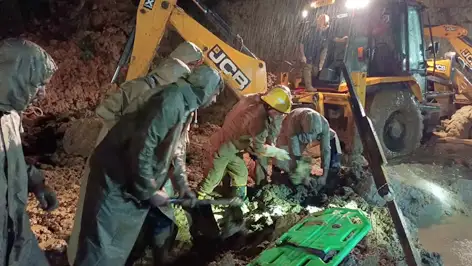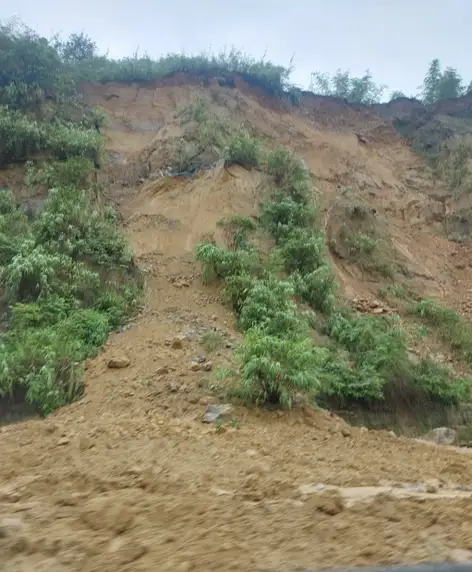 Staff Reporter
ITANAGAR, 16 May:  At least five persons have died and several others were injured after two heavy landslides hit Itanagar on Sunday night and Monday morning.
Three persons were killed when landslide flattened dwelling houses at Yagumso colony near Punjabi Dhaba in 'D' Sector Itanagar, around 9.30 pm on Sunday.
Officials informed that deceased were identified as Taposh Roy Barman (15) Nagin Barman (45) and Kusum Roy (35). The body of Kusum Roy is yet to be retrieved, informed the police adding that search operation is still on to retrieve Roy's body.
Reportedly, the landslide struck when the deceased and their family members were about to sleep. The rescue and search operation team comprised of State Disaster Response Force (SDRF), capital police, CRPF jawans, assisted by the National Disaster Response Force (NDRF) could retrieve Taposh Roy Barman's body late at night.
The search operation had to be halted at night following inclement weather. The body of Nagin Barman was reportedly pulled out on Monday after arduous task. The official sources informed four persons identified as Manoj Barman, Sandip Barman, Subala Rai and Sabita Rai were also rescued and admitted to Rama Krishna Mission Hospital, Itanagar.
In another tragic incident, two persons identified as Tai Yai (42) and Teg Bhadur Sonar (52) were reportedly buried alive by the landslide near NES secretariat Richi Jollang on Monday.
A casual labourer at PWD, late Sonar was from Gohpur, Assam.  Late Yai, also a casual worker was a permanent resident of Palin, Kra Daadi. The SDRF, NDRF and the capital police later pulled out the bodies and after conducting medical formalities, the bodies were handed over to the family.
Two persons identified as Pai Taje(53) and T.Talu(52) sustained minor injuries during the incident.
EAC Itanagar Takam Nicholas informed that both of them were helping another colleague carry his two-wheeler from the spot when the mishap occurred.
The EAC informed that there is likelihood of more such incidents occurring along that stretch of road if it continues to rain.  Accordingly, traffic advisory has also been issued to prevent people from using Pappu Nallah-Jollang- Ganga Market Itanagar road.
Road blockades, landslides, mud sliding etc. were also reported from various other locations of Capital Itanagar.
The DDMO Moromi Dodum Sonam informed that 7 different locations at Itanagar-RWD colony, Yagomso colony, Niya colony, Chimpu, Daath Basti Jollang, Ajin colony, Hilltop colony and Gompa area while 2 locations at Naharlagun namely 'D' sector colony and 'A' sector colony were reported to be affected by heavy rainfall with many houses damaged.
Also, slip clearance was done at various locations of Itanagar at Niya colony, Senki view-Panchali road, 4th IRBN road via Hill top colony at Itanagar, 6 kilo, RWD colony, circuit house- Doordarshan office along with clearance of choked drains at Daath Basti and Hoka, Jollang and at Karsingsa road by PWD CD-A, B and Highway.
The week-long heavy downpour has wreaked havoc in the twin town and across the state.
A portion of the wall of Thupten Gatseling Monastery, Itanagar has been washed away.
At Barapani, landslide had damaged rented rooms of one Jikke Tale.
Karsingsa block point is also blocked while approach road of Sangey Lhaden Sports Academy in Chimpu is also reportedly blocked after the portion of road was washed away in flood near the temporary bridge.
The district administration has alerted all the citizens to be cautious during downpour and avoid landslide prone zones and vulnerable areas.
Heavy rainfall also lashed several districts across the state snapping surface communications.
CM appeals for precaution as slides hit Itanagar
Chief Minister Pema Khandu has expressed grief as well as concern over loss of lives due to landslides in the state capital city following incessant rainfall since several days.
Taking stock of the situation arising due to heavy and continuous rains in the state, Khandu appealed all to take precautionary measures especially, those living along river banks, streams and landslide prone areas.
He said that the district administration has identified and earmarked buildings as temporary relief camps and people in vulnerable places may either shift there or other places till the situation returns to normalcy.
"It pains my heart to get information of loss of lives every year during monsoons. My heart goes out to the departed souls and survivors, who are mostly near and dear ones. As I pray for eternal peace of the departed souls, I reiterate that such disasters can be avoided if we respect nature and use common sense in building houses, earth-cutting and blocking natural flow of streams and rivulets," Khandu said in a message this evening.
The Chief Minister assured that ex-gratia to the deceased and relief to the injured will be provided by the government as per norms. (CMO)