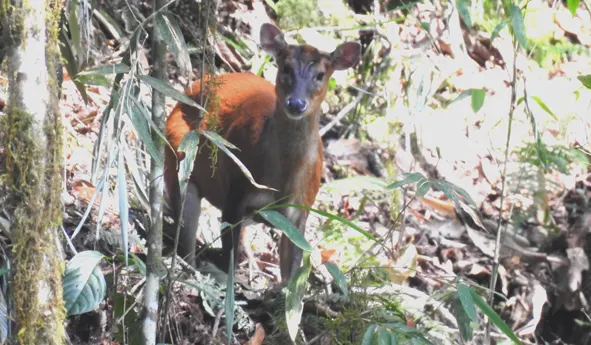 [ Bengia Ajum ]
ITANAGAR, 16 May: A researcher from Botanical Survey of India (BSI), Kolkata has spotted an elusive Indian Muntjac at Eagle's Nest Wildlife Sanctuary in West Kameng district.  Muntjac, is popularly known as barking deer and is among seven species of small to medium-sized Asiatic deer that make up the genus Muntiacus in the family Cervidae (order Artiodactyla).
The deer was spotted by Sanjay Kumar, who is researching the flora of the Eagle's Nest Wildlife Sanctuary from 2018 onwards.
Talking to this daily, Sanjay Kumar shared that he first spotted the deer in the month of February during a field visit. "As part of research work, I along with my guide were touring Eagle's Nest in the month of February. We heard the deer making a sound and took pictures. It has been spotted as Muntjac, an elusive deer," informed Sanjay. He also shared that Muntjac is called barking deer because of its cry.
 "They are solitary and nocturnal, and usually live in areas of thick vegetation. When it senses danger, it calls out with a harsh bark that can be heard miles away," said Botanist Sanjay.
Even though Muntjac deer are found in many states, the species is facing growing threats. "The habitat destruction and hunting are major threats to this unique species. They are mostly found in the Indian Himalayan region. Now the sighting of this species is very rare," added Sanjay Kumar. Further, he said there are lots of avenues for biologists and researchers in the field of plant and animal taxonomy in Arunachal Pradesh.
"The state is a paradise for researchers and there is vast scope for it. Even research on Muntjac in Arunachal Pradesh needs more attention from the biologists," he added.
It is to be noted that Muntjac is an protected animal under Schedule III of the Wild Life (Protection) Act, 1972.