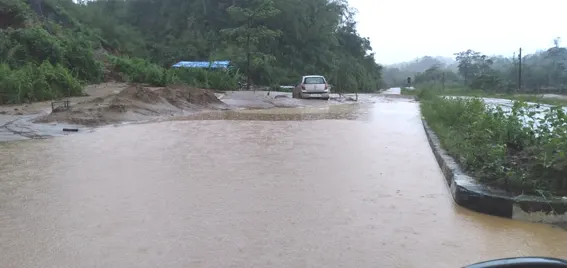 [ Bengia Ajum ]
ITANAGAR, 17 May: A portion of NH 415 near Hollongi here under Papum Pare district has been damaged due to the illegal earth cutting near the highway.
The traffic between Itanagar and Hollongi was stopped for some time on Tuesday morning when the landslide caused by the illegal earth cutting blocked the NH 415.
Later, the landslide was cleared and the road was opened for traffic.
The local residents of Hollongi have expressed anger over the failure of the Papum Pare and capital administration to check the illegal earth cutting in between Itanagar and Hollongi.
"Several instances of illegal earth cutting are seen in this particular stretch of NH 415. In the past, illegal earth cutting has caused damage to NH 415 at places like Chimpu and near garbage dumping area too. But both ICR and Papum Pare administration do not take strong action against people responsible for damaging the highway," said an angry resident.
He further urged the administration to take strict action against the person responsible for damaging a portion of NH 415 near Hollongi.
 "This was a purely manmade disaster. Due to the illegal earth cutting near the highway NH 415 has been badly damaged. Now, who will take responsibility for it? It is time the highway authorities fix the responsibility and initiate action against people indulging in reckless earth cutting near the highway," the citizen said.
Several such cases of landslides caused by illegal earth cutting have been reported from various parts of the ICR.
Meanwhile, an official of PWD Highway has said they are monitoring the situation.
"The highway officials have visited the places where damages have been caused to NH 415 because of the illegal earth cutting. We have asked the person responsible for the landslide to clear it from their own resources. In the meantime, our officials will prepare a report and if necessary will submit it to the higher authorities to seek strict action in this regard," said the senior official of PWD, Highway.