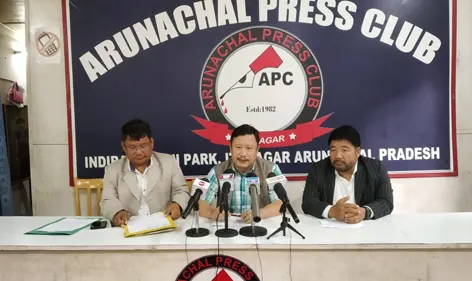 Staff Reporter
ITANAGAR, 18 May:  The Arunachal Christian Forum (ACF) on Wednesday served 15 days ultimatum to the state government and threatened that it would go for a state-wide agitation if the government fails to make the status report surrounding Tawang Church issue public.
Addressing a press conference at the Arunachal Press Club here, ACF president Toko Teki expressed anguish over inordinate delay in resolving the church issue.
 "We have been requesting the government to make the fact finding committee report public and bring amicable resolution on the church issue. However, the government is repeatedly ignoring our pleas," claimed Teki.
"After two months, we have again submitted a representation to the state government on Tuesday, seeking the status report. Our ultimatum would end on 2nd June. We do hope this government would give positive report and we would be able to start constructing Church at Tawang," said ACF GS Tarh Miri.
"We have decided to stage state-wide protest in every district, if the government fails to provide status report on Tawang church issue within 15 days," said ACF vice president Norbu Sonam.
In early October 2020, the Tawang district administration had arrested Revival Church pastor Joseph Singhi on the basis of an FIR lodged by the district land revenue & survey officer, allegedly for illegally constructing the church. Singhi was later released on bail and the statements of eight other members who had accompanied Singhi were recorded by the police.
Pastor's arrest sparked state-wide protest among the Christian community.
The district administration claimed that they had issued notices to Singhi to stall the construction and dismantle the structures. The district administration had issued a similar notice in 2017.
It further claimed that the notice was issued on the basis of the Supreme Court direction of 29 September 2009, that no unauthorized construction shall be permitted in the name of temple, church, mosque, gurudwara, etc. on public streets, public parks and other public places.
The DA invoked Section 4(1) of the Arunachal Pradesh Public Premises (Eviction of Unauthorized Occupant) Act, 2003, after Singhi allegedly failed to comply with the order.
Jolted by widespread agitations, the government had constituted a three-member committee on 9th November, headed by minister for environment, forest and climate change Mama Natung along with MLAs Nyamar Karbak and Nyato Dukom to study the ground reality and submit report to the state government.
The church is located behind the district planning officer's quarters in AIR Colony in Tawang. The Christian community in the district is claiming that they have been occupying the plot since 1999 and the church was built in the same year. It is said that they had applied for land allotment, which has reportedly not been approved yet.
There is a blanket ban on land allotment in Tawang for a decade. It is learnt that more than 200 land allotments issued to private and public parties had to be cancelled in 2007 after the district's students' union raised the issue.