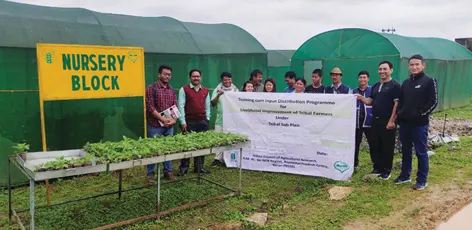 GORI, 21 May: The ICAR's Basar-based regional centre organised a 'training-cum-input distribution programme' under the Tribal Sub-Plan (TSP) at the ICAR research farm here in Leparada district on Saturday.
During the programme, ICAR AP Centre Joint Director Dr H Kalita encouraged the farmers to grow king chilli, owing to its high demand in the state, and presented a brief on organic pests management in king chilli cultivation.
Horticulture scientist Dr Thejangulie Angami explained the "organic production technology of king chilli," while plant pathology scientist Dr Raghuveer Singh highlighted disease management in king chilli, and Horticulture Technical Officer Takar Ronya shed light on raising nurseries of king chilli seedlings.
King chilli seedlings were later distributed among the adopted farmers under the TSP.