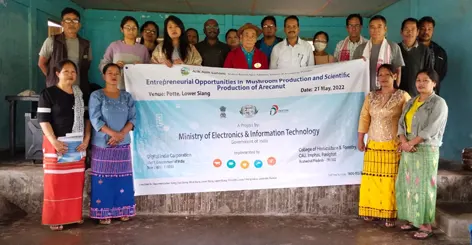 POTTE, 21 May: Forty-two farmers participated in a training programme on 'Entrepreneurial opportunities on horticulture – mushroom and arecanut production', organised by Pasighat (East Siang)-based College of Horticulture & Forestry (CHF) at Potte village in Lower Siang district on Saturday.
The programme featured a demonstration on 'scientific package and practices of mushroom and its economics of cost of cultivation and arecanut production technology', presented by the resource persons for the benefit of the farmers.
The programme was conducted under the project 'Arik Abik Lunom mobile-based agro advisory services in Arunachal Pradesh', being implemented by the CHF, in collaboration with the union electronics & IT ministry.
The project is being implemented in nine districts of the state: East Siang, West Siang, Upper Siang, Lower Siang, Siang, Leparada, Lower Dibang Valley, Namsai and Shi-Yomi.
CHF Social Science Head Dr Lakshmi Dhar Hatai informed the participants that mushroom production is "a profitable business enterprise for enhancing farm income, generating additional employment and subsistence to nutritional security."
Dr PK Nimbolkar of the CHF's fruit science department highlighted "arecanut-nursery seedling enterprise and its scientific cultivation methods," while Dr Punabati Heisnam of the CHF's NRM department emphasised on "the due importance of mobile based agro-advisory information to solve the horti-based farming problems faced by the farm-entrepreneurs."
Field manager Sange Wangmo and field coordinator Bomge Padung of Arik Abik Lunom imparted hands-on practice to the farmers in using the M4Agri mobile app.