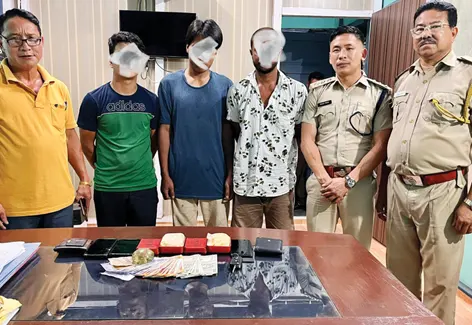 TEZU, 23 May: The anti-drug squad (ADS) of the Lohit police, led by DSP (P) Maga Tago, arrested three drug peddlers here on Monday when they were attempting to sell contraband substance in Tezu town.
The team, including Tezu PS Inspector Robert Borang, intercepted a Tata Tiago car (AR-11A-6241) in 28 Mile area (Gohain Gaon) and apprehended three persons, identified as Alimo Keche, Anodi Keche, and Ram Das, all of whom have been identified as residents of Tezu.
The suspected drug peddlers were coming from Mahadevpur to Tezu with the intention of selling the contraband substance, which was found by the ADS upon search of their persons and vehicle.
"Two small plastic containers (soap cases) containing orange colour powdery substance, suspected to be contraband substance, weighing approximately 25 grams, along with cash amount of Rs 10,650, suspected to be sales proceeds, have been seized from their possession," informed the DSP.
"A case under Section 21 (B) of the NDPS Act has been registered and further interrogation and investigation is being carried out to ascertain the modus operandi," he added.