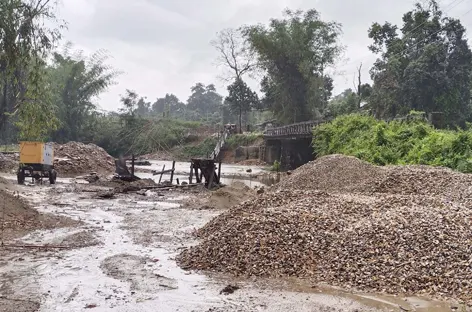 Correspondent
RUKSIN, 23 May: The tardy progress of the construction work for the new RCC bridge over the Peneng river on the Mirem-Mikong-Jonai (MMJ) road has been widely resented by the locals here in East Siang district.
They have alleged that the construction work on the bridge (in between Mikong and Mirem villages) is going on at a snail's pace.
The APPWD sanctioned Rs 12 crores under the Social & Infrastructure Development Fund for the construction of three RCC bridges, including the bridge in question, along the MMJ road.
While the work on the other two bridges in Ruksin and Ngorlung portions, being executed by other firms, is progressing well and nearing completion, the firm executing the bridge in between Mikong and Mirem villages has so far been able only to lay the foundation of the bridge's first pillar, they said.
The locals have demanded that the PWD officials intervene and take necessary action against the executing firm.
Officials of the Pasighat PWD division said there is no fund crunch for the construction of the bridge.
"The state government has sanctioned sufficient funds to the PWD for implementation of various road and bridge projects, but the contractors concerned are not keen to speed up the construction activities," the officials said.
The existing Bailey bridge over the river is in a dilapidated condition, and, due to years of wear and tear, has become unusable. It has been left unrepaired for the last 20 years.