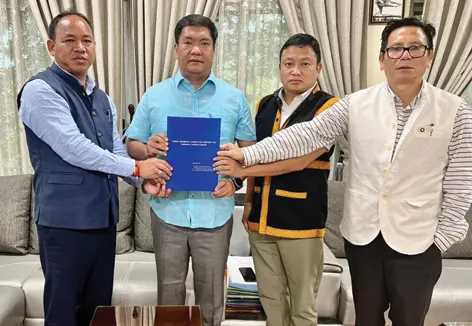 Staff Reporter
ITANAGAR, 23 May: The three-member high-power committee on the Tawang church issue, headed by Environment Forest & Climate Change Minister Mama Natung and including MLAs Nyamar Karbak and Nyato Dukom, submitted its report to Chief Minister Pema Khandu on Monday.
The development comes in the wake of the Arunachal Christian Forum's (ACF) serving a 15-day ultimatum to the state government to make the report public by 2 June.
The committee has submitted its report after one-and-a-half year.
When contacted, Natung informed that the committee report is "primarily based on the facts and figures," referring to the Supreme Court's rulings and judgments on issues related to religious institutions.
"Our report is based on facts and merits, considering the Supreme Court's ruling and the provisions under the relevant laws of both the state and the Centre," Natung said, without divulging the contents of the report.
The Tawang church controversy began when its pastor Joseph Singhi was arrested in October 2020 on the basis of an FIR lodged by the district land revenue & survey officer, allegedly for illegally constructing the church.
The pastor's arrest sparked statewide protests by the Christian community. The Tawang district administration had invoked Section 4 (1) of the Arunachal Pradesh Public Premises (Eviction of Unauthorised Occupant) Act, 2003, after Singhi allegedly "failed to comply with the order."
Facing widespread criticism, the state government had constituted the committee on 9 November last year to study the ground reality and submit its report to the state government.