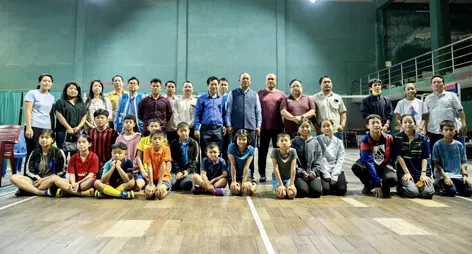 ITANAGAR, 23 May: Sports & Youth Affairs Minister Mama Natung launched the Arunachal State Badminton Association's (ASBA) two-year intensive coaching camp themed 'Target Olympic Podium (TOP)-2028 and beyond' at the MLA cottage indoor badminton stadium here on Monday.
In his address, the minister said that the state government is committed to support such ambitious endeavours, and announced to support the ASBA with Rs 5 lakhs each year in 2022 and 2023.
Natung also launched the ASBA's official website.
ASBA secretary-general Bamang Tago said that the association has "opened a new chapter in the history of badminton in the state with the introduction of an internationally renowned coach with more than 25 years of experience." He said that the course would "carry forward the ASBA's mission with 25 kids identified under 13 age group, which is the outcome of four years exercise through the 'Catch them young', and they are now in advance skills, already representing the state in regional and national events."
Head coach Md Aras Razak said that "there is a high potential in Arunachal as per weeks' assessment," and gave assurance that he would offer his best "techniques and training, so that the athletes bring laurels to the state and country in the years to come."
The ASBA submitted a two-point memorandum to the minister, seeking allocation of fund for 'Mission TOP-2028 & beyond', and 'enhancement' of the Dorjee Khandu Memorial State Badminton Championship, ASBA COC secretary Penya Bagra informed.