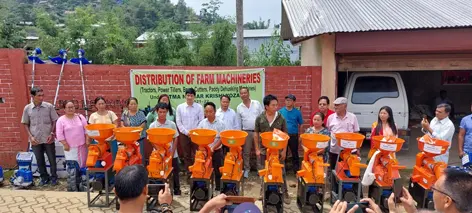 KHONSA, 24 May: Altogether 17 paddy dehusking machines, 3 bush cutters, 3 mini rotary tillers and one power tiller were distributed to beneficiaries under Atma Nirbhar Krishi Yojna  by Tirap deputy commissioner Taro Mize in the office premises of district agriculture office here on Tuesday last.
District agriculture officer (DAO) Pangnyai Khoisia informed that earlier 2 nos. of tractors were distributed to the beneficiaries by Khonsa ADC under the same scheme.
While interacting with the beneficiaries, the DC urged them to make best use of the machinery and create awareness among their fellow farmers about the necessity and importance of modern agricultural tools. He also advised them to convince other farmers of their villages to avail such facility from the ensuing second allotment which is likely to be released shortly.
Later, the DC accompanied by DAO inspected the store and office of the DAO. (DIPRO)