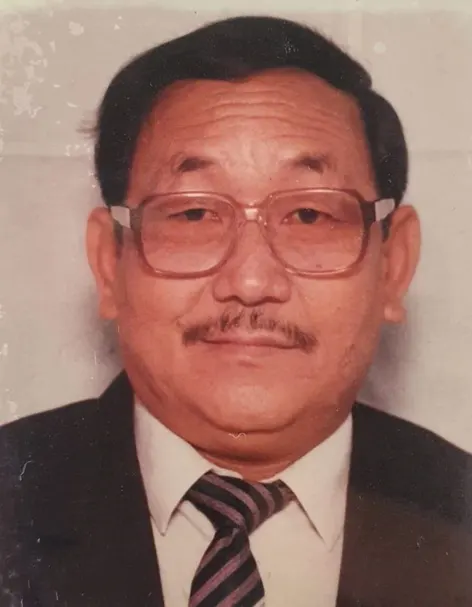 ITANAGAR, 25 May: Former chief secretary Takap Ringu passed away aged 82 years at Tomo Riba Institute of Health and Medical Sciences on Wednesday morning.
His wife Kenyir Ete Ringu, former APSCW member and six daughters survive him.
Born in the then Ngopi village under present Kora circle in 1940, Ringu received his primary school education from Tene and Sadiya. He went to Pasighat Higher Secondary School and did his graduation in economics with honors from St Edmund's College, Shillong, in 1963.
He began his bureaucratic journey the very next year as APO-1 and IFAS and was inducted as IAS officer the same year.
He served the people to the best of his ability all through his career in capacities, like Assistant Commissioner, Additional Deputy Commissioner, Deputy Secretary and Director (Panchayati Raj) under the NEFA administration. He went on to serve as Deputy Commissioner, Finance Secretary, Resident Commissioner (New Delhi) and Development Commissioner, Commissioner to Govt of Mizoram and Chief Secretary, Andaman and Nicobar.
After serving as Chief Secretary of Arunachal Pradesh (1992-95), Ringu was elevated to the post of Secretary, North East Council, where he served from 1996 to 2000 before opting for voluntary retirement.
Meanwhile, condolence messages have poured in from various quarters over the demise of Ringu.
"Ringu was one of the first generation administrative officers from the state and in his departure, the state has lost the man, who shaped the state through its nascent years," Governor BD Mishra said.
"A distinguished bureaucrat and a respected person, Ringu made valuable contributions towards the development of Arunachal Pradesh as also to the Galo community in true tradition of the 'pay back' to his fold. In his passing away our state has lost a great son of the soil," he said.
Chief Minister Pema Khandu has expressed profound grief over the demise of Ringu and offered heartfelt condolence to the bereaved family.
He said that Ringu was one of the first generation civil servants of the state, who served in various capacities, reaching to the top post in bureaucracy of the state, in his long and illustrious career.
"His demise is loss of an era of sheer determination, dedication and service to the people. Late Takap will remain an inspiration for generations," Khandu said.
Former chief ministers Gegong Apang deeply mourned the demise of Ringu.
"Ringu was one of the pioneers amongst the senior officers of our community. In my opinion, he was not only a pioneer but also one of the torch bearers and great source of inspiration for our succeeding generation," the former chief minister said in a condolence message to bereaved family of late Ringu.
"Although, he is no more with us, we will cherish his sweet memories in all the days to come," he said, adding that his departure has created a vacuum, which can never be filled easily.
In his condolence message, former chief minister Nabam Tuki termed Ringu's demise a great loss for the state.
"He served the state's people in various capacities as an able and dedicated administrator during his long illustrious career.  His selfless and noteworthy contribution to the society and state will always be remembered," Tuki said.
Chief secretary Sharat Chauhan said that Ringu will fondly be remembered for services rendered to the people and for his humanitarian approach.
The Cibo Baage Ao Keba (CBAK) deeply mourned the passing away of Ringu, one of its senior members, and offered deep sense of condolence to the bereaved family.
In his condolence message, CBAP president Dr. Emi Rumi described Ringu as the torchbearer of the clan.
"He was the first Arunachalee to be appointed as chief secretary. He also holds the distinction of first Arunachalee to serve as secretary NEC," Dr. Rumi said.
"An officer par excellence, Ringu was our guiding light and pride as well as our inspiration. The entire CBAK clan humbly remembers his immense contribution in the field of administration to our state in particular and other parts of the nation in general. We deeply appreciate his selfless and glorious service rendered to the public," he said.
Adi Ba:né Kébang also deeply mourned the passing away of Ringu.
 "ABK is deeply pained by the demise of Ringu. He was a very dedicated and visionary officer," ABK president Tadum Libang said in a condolence message. The ABK offered heartfelt condolences to the bereaved family.
The Galo Peoples' Federation (GPF) said it is deeply saddened by the passing away of Ringu. The GPF termed his demise is as colossal loss to the Galo community in particular and the entire state in general.