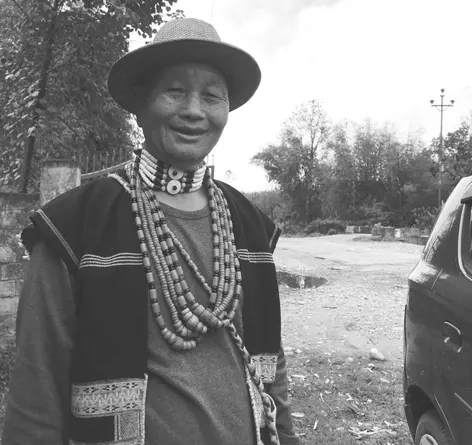 [ Zilpha Modi, Yanki Modi & Mark Post ]
At 11:30 am on Saturday, 28 May, 2022, Jokut Modi passed away in Dibrugarh, Assam, surrounded by all his family. Here was a man who lived through a thousand years of human history in a single lifetime. A man who was a child of the old world, but who saw the promise of a new world, and who spent every day of his life pursuing what was right and good in both worlds, and striving to bring the two into balance.
Jokut Modi was born in Milang village in what was then the Abor Hills district of the North Eastern Frontier Tracts. Born into the turmoil of the Second World War, at the dawn of Indian independence, he was raised in the junction of ten thousand years of history – of hunter-gatherers, tribal villages and subsistence farmers – and the arrival of modern laws, agriculture, and technology.
As a young child of eight or nine, he became fascinated by a local schoolteacher who came from faraway. This man had new knowledge, new ways of thinking – and he had a tiny matchbox full of sugar, which he gave to Jokut Modi, and gave him a taste of the world outside. It was the taste of promise. Of new frontiers, of new possibilities – new danger, and new risks – but also new opportunities. Defying his parents, who were dismissive of education, who wanted him to work the fields, he ran away to attend school, and was one of the first of his generation to graduate.
As a Village Level Worker, he built roads and bridges, learned about and introduced new crops, and immersed himself in the scientific methods of modern farming. He also immersed himself in the power of community, and in collective approaches to farming, distributing new and high-yielding crops such as pineapples, gingers and radishes to villagers, and raising the living standards of not just his own family, but of other families around him. He presided over hundreds of kebangs, pursuing a justice that balanced tradition and culture with the new challenges and opportunities of Indian modernity.
He married Adde Langkam, and with her had nine children, of whom eight survived and gave him seventeen grandchildren. Through sheer hard work and persistence, he educated all of them, insisting in particular that his daughters should not be left behind, but should gain the same opportunities that the new world was providing to his sons. He sent them to Pasighat, to Delhi, to Kolkata, and from there to JNU, to Oxford, to the University of Bern in Switzerland, and to the University of Sydney in Australia.
After a lifetime of hard work and struggle, Jokut Modi's distinctive achievements attracted the notice of scholars and leaders in agriculture, technology and community farming. Beginning in 2013, he was appointed to the board of management of the Central Agricultural University in Imphal and to the Scientific Advisory Committee of Krishi Vigyan Kendra, East Siang. In 2015, he was awarded a felicitation for his contribution to progressive farming by the governor of Arunachal Pradesh, and in 2018 became director of the Donyi Sango Farmer's Producer Company, pioneering the introduction of organically-farmed cash crops into Arunachal Pradesh.
As a community leader, Jokut Modi never lost touch with his roots, and worked tirelessly to lift up and support every member of his family and his community. As founding member of the Modi Welfare Society from 2003 to 2019, he raised funds for the needy, brought security to the struggling, and gave relief to people who underwent misfortune. And throughout his life, until the last and final days, he was proud to be a speaker and a guardian of his unique Milang language: the language of his parents, of his grandparents, and of generation after generation of Milang people before them.
With the passing of Jokut Modi, we have lost a great man – an innovative thinker, a loving father, a dedicated husband, and a community pillar. Yet we live on with the gifts of his wisdom, his love and his passion for progress and justice in the world he has left us. And so he will live on through his descendants, forever. (This obituary has been written by Jokut Modi's daughters Zilpha, Yanki Modi and son-in-law Mark Post.)