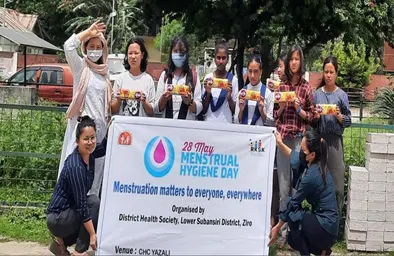 ZIRO/YAZALI, 29 May: The Lower Subansiri District Health Society observed the World Menstrual Hygiene Day on 28 May with awareness and counselling programmes conducted in both the blocks of the district.
A thematic 'Adolescent Health and Wellness Day', based on Menstrual Hygiene Day, was conducted in Ziro-I at the multipurpose hall of Mother's Home shelter/orphanage, under the guidance of the district RCH officer, and led by the district adolescent health programme manager and the Old Ziro CHC adolescent health counsellor, along with ASHAs and ASHA facilitators of the area. The awareness and counselling programme was attended by the inmates of Mother's Home and adolescents from the surrounding areas.
The event began with a session focussing on menstrual hygiene and health, during which the attendees were encouraged to break the stigma around menstruation. This was followed by a group discussion, and ended with a counselling session. The attendees were provided with sanitary pads.
In Ziro-II block, a similar awareness programme was conducted by the staff of the Yazali CHC, led by the adolescent health counsellor and the MOs of the Yazali CHC, along with ASHAs and ASHA facilitators of the area. The attendees were provided with sanitary pads. (DIPRO)