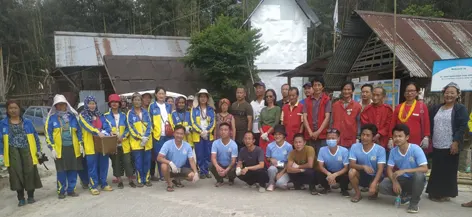 ZIRO, 29 May: The panchayat leaders of Reru zilla constituency conducted a flower plantation programme from the Pabiiya road to Laji Bogia in Kalung village in Lower Subansiri district on Sunday.
Agriculture Minister Tage Taki and Deputy Commissioner Somcha Lowang also joined the PRI members in the plantation programme.
This is for the second consecutive year that the leaders of Kalung Reru zilla constituency, under the leadership of ZPM Subu Lento, have planted seasonal flowers along the stretch of the road. It has become a favourite place for photographers and tourists.
The team will conduct a similar plantation programme along the national highway from Pai Gate to Pine Grove once the highway construction is completed, Lento informed.
Gaon buras, gaon buris, and the people of Kalung and Reru also joined the programme. (DIPRO)