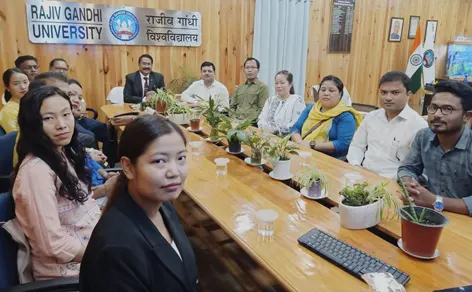 RONO HILLS, 29 May: The orchid database of Arunachal Pradesh was launched on Rajiv Gandhi University's (RGU) website by Vice Chancellor Prof Saket Kushwaha on Sunday.
The database is a compilation of available published resources and scientific information provided by the orchid research group of the university's botany department, the Orchid Research & Development Centre in Tippi (West Kameng), and the State Forest Research Institute, Itanagar.
It provides information on classification, distribution, salient morphology, usages, established tissue culture
techniques, and herbarium details, stated a release from RGU.
"The creation of the database was one of the objectives of a DBT-GoI funded research project entitled 'Orchid bioresources of the Northeast India – Conservation, database development and information networking'. It was jointly prepared by RGU's Centre of Bioinformatics and botany department, under the guidance of principal investigator Prof RK Singh, and can be accessed at http://rgu.ac.in/botany/orchid-db," it said.
Prof Kushwaha highlighted the importance of orchids, their demand in both national and international markets, and the potential of the state to become a leading producer and supplier.