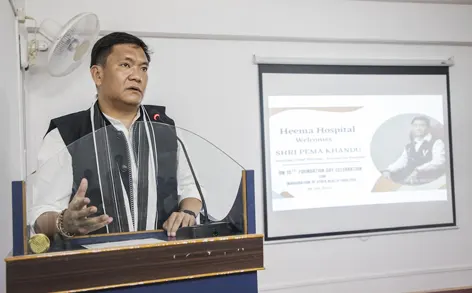 ITANAGAR, 29 May: Deteriorating health is one of the biggest negative effects of modernity and development, said Chief Minister Pema Khandu while attending the 15th foundation day celebration of Heema Hospital here on Sunday.
"The health sector is one of the most demanding, and the government alone cannot fulfil the healthcare needs of the people. Deteriorating health is one of the biggest negative effects of modernity and development. As we become more dependent on technology, our lifestyle takes an impact. There are not much physical activities these days, which has made man prone to various diseases and therefore demands better and extensive healthcare facilities," Khandu said.
He informed that the state government has recently adopted an industrial investment policy to assist
private investments in the state.
"I would suggest that investment in healthcare and tourism sectors may be included under the policy, so that private hospitals like Heema may also be benefitted," he said.
Commending the hospital's CMD and founder Dr Byabang Rana for opening the private hospital in the state capital, Khandu called upon local entrepreneurs to "invest in similar ventures that would help people in need."
Congratulating the hospital's management on virtually inaugurating a new branch of Heema Hospital in Nirjuli as part of the day's programme, Khandu requested them to "spread out to other districts, if possible from Pasighat, the state's oldest city."
He also endorsed MLA Balo Raja's appeal to the Heema Hospital management to open one branch in Palin (Kurung Kumey district) "as the founders of the hospital originally hail from the district."
"I appreciate the management for promptly accepting the request. I believe people should give back to their home districts in whatever way possible," Khandu said.
The state government, he said, has "taken health on priority, especially after the Covid surge," and informed that 18 district hospitals are being upgraded.
"Several district hospitals have already been dedicated to the people after upgrading. Work on others is nearing completion. We have not remained confined to the district hospitals but are reaching to the primary health centres and community health centres too.
"This financial year, 60 identified PHCs and CHCs will be upgraded, one each in every assembly constituency, into model units, which would be called golden jubilee PHCs and CHCs," he informed.
Earlier, the chief minister, in the presence of Raja, Chief Secretary (in-charge) Sharat Chandra, TRIHMS Director Dr Moji Jini, Heema Hospital CMD Dr Rana, Medical Superintendent Dr Kezang Wangdi and others, dedicated to the people new facilities of MRI 1.5 Tesla, elastography 4D ultrasound, a histopathology and cytopathology laboratory, a new gynaecology and obstetrics ward, and two floors of dedicated parking lot in the hospital's new building. (CM's PR Cell)