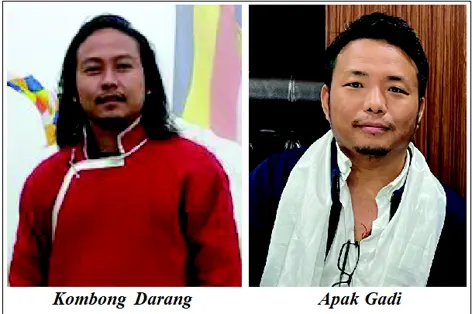 [ Mingkeng Osik ]
ITANAGAR, 31 May: The 17th Mumbai International Film Festival (MIFF) will feature two documentary films from Arunachal Pradesh – The Galos, directed by Apak Gadi, and The Songs We Sing; The Drums We Beat, directed by Kombong Darang.
The Galos is based on an ethnographical study of the central Himalayan tribe, the Galos. The Galos are one of the many ancient tribes of Arunachal, sharing almost a 1,100-kilometre long border with south Tibet.
The 23-minute documentary takes a deep look at the society and culture of the Galos, focussing on their remarkable expertise in traditional herbal medicines and ancient remedies. Their civilisational experiments with native diet patterns, which are potentially a huge reservoir of health-friendly food habits, are a subject of obsession for the modern world.
"The film could be an eye-opener for the rest of the world to understand and acknowledge Arunachal and Galo community's potential to cure the world through its traditional knowledge connected to ancient medicine and food habits," said Gadi, who is an Arunachal-based filmmaker and also served as a guest assistant professor in the masscom & journalism department of Rajiv Gandhi University (RGU).
 This is the third documentary film by Gadi which has been selected for the MIFF. The earlier two were 40 Years through the Lenses and The Membas, screened at the 15th MIFF.
The Songs We Sing; The Drums We Beat, directed by Darang, who is a documentation officer at the CFEL, RGU, and a PhD scholar in the masscom & journalism department, depicts the language and culture of the Kaasiks, their traditions and lifestyle. The Kaasik or khapa is an ethnolinguistic group of Nocte community of Tirap district, which embarks on a journey of reliving their past while reflecting on their future as a distinct culture.
Congratulating the two directors, IPR Minister Bamang Felix said, "Arunachal Pradesh is the hub of myriad ancient cultures which need to be cherished and documented. The government of Arunachal has already taken steps in this direction and I hope our youths will successfully carry forward this effort and showcase our amazing cultures to the rest of the world."
The Film & Television Guild of Arunachal also congratulated the duo, and expressed hope that filmmaking as a career "will cater a newer platform in the state."
The MIFF is one of the oldest and largest film festivals for non-feature films in south Asia, which began in 1990. Organised by the films division of the information & broadcasting ministry, the 17th edition of the festival will screen documentaries, shorts and animation films from 29 May to 4 June.
Altogether 13 films from the Northeast will be screened at MIFF-2022.