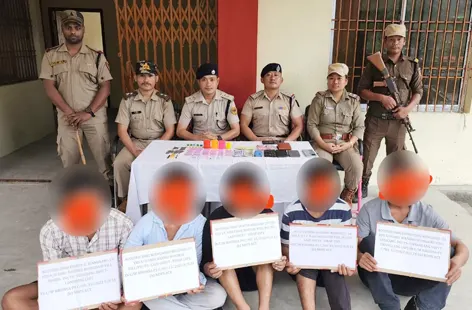 KHONSA, 3 Jun: Five persons were arrested in connection with consumption of and dealing with contraband drugs by the anti-drug squad (ADS) of the police here in Tirap district on Thursday.
Based on an input, the ADS, led by DSP Togum Gongo and including Inspector W Kamhua, SI L Kimsing, and others raided the residence of one Wangsham Wachok, a drug addict and peddler, in Bank Colony here, under the supervision of SP Kardak Riba.
When the team entered Wachok's room, five persons, comprising Wachok (33), Rangmo Mangyut (36), Yumto Noksok (27), Donny K Wangnaw (33) and Dongpong Kungkho (32) were found inside a room in an apparent state of intoxication.
During a search conducted in front of independent witnesses and Executive Magistrate Ripi Doni, about 115.72 grams of suspected heroin and brown sugar in containers (valued at Rs 1,50,000) were recovered from the possession of the five persons, besides cash, smartphones, drug inhaling pipes and aluminium foils.
A criminal case under Section 21 (b) of the NDPS Act has been registered and investigation is on. (DIPRO)