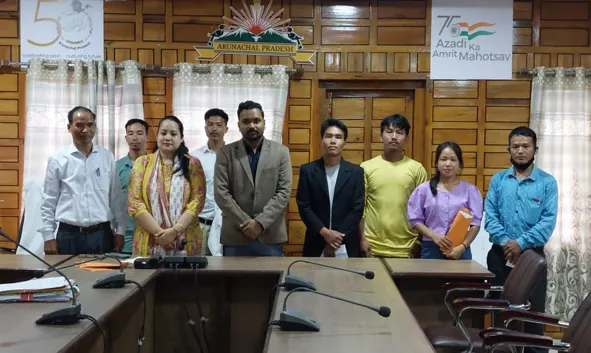 YUPIA, 3 Jun: Papum Pare DC Sachin Rana, along with ADC Tabang Bodung and nodal officer Nikita Panggam on Friday handed over Rs 8 lakhs to the beneficiaries of the Puroik community under the Livelihood Generation Activities Scheme for establishing and running small businesses like garment shop, meat shop, grocery shop, vehicle procurement, etc.
The DC advised the beneficiaries to utilise the fund properly, and directed the nodal officer to ensure that the beneficiaries utilise the fund properly.
The beneficiaries were encouraged to employ more people in their enterprises, "with special emphasis on the unemployed youths of the Puroik community."
The beneficiaries are Anung Jerang Tomo (for wholesale grocery shop), Kuyu Tajik (for Tata pickup truck), Sij Nagli (for meat shop) and Byali Sime (for a garment shop).
Each beneficiary received Rs 2 lakhs. (DIPRO)