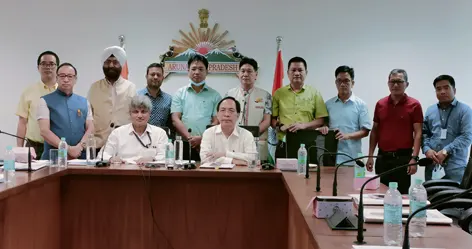 ITANAGAR, 3 Jun: The GIS-based master plan for the Itanagar Capital Region (ICR)-2031 was approved during a meeting of the State Urban & Country Planning Board chaired by Town Planning Minister Kamlung Mossang here on Friday.
During the meeting, Town Planning Secretary Ajay Kumar Bisht said that the "master plan is a vision document for any future development directions. If government and private departments and individuals follow the master plan, our city shall remain beautiful and healthy."
Town Planning Director Likha Suraj spoke on the importance of a master plan and how its implementation could shape the future of the ICR. He requested all the departments to "use the vision document in the near future for any development activities in the ICR."
Venkata Ramana Kumar from Hyderabad-based M/s Remote Sensing Instruments made a virtual presentation on the details of the master plan and its importance for regulating the growth and development of the town in a proper way.
He highlighted infrastructure development, such as urban space management, development of tourism avenues, new road construction, railway proposal, expansion of housing colonies, traffic management, proposal of ropeways, etc.
Union Housing & Urban Affairs TCPO Monis Khan informed that "Itanagar master plan is the first city of the country to be notified as GIS-based master plan of AMRUT Mission."
Mossang on his part appealed to all the departments to "work together to make this vision document a reality."