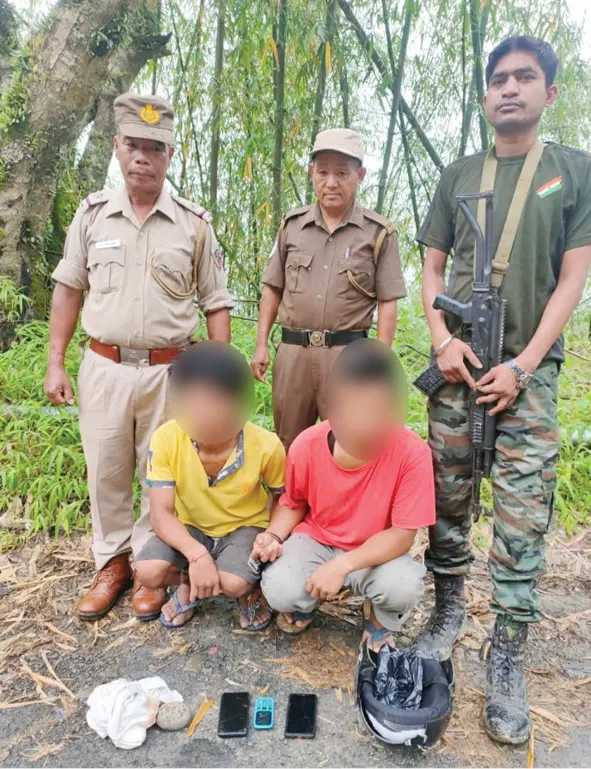 KHONSA, 3 Jun: The Tirap police on Thursday evening foiled a bid by miscreants to abduct two shopkeepers from the Deomali-Margherita road.
The abduction was averted because a police 'naka-bandi' was in place at the NCI bridge in Deomali on the same evening.
At around 7:30 pm, one motorcycle (AS-N-1528) with three riders, escorted by a scooter rider, was spotted arriving from the Margherita side. After noticing the presence of the police, the motorcyclist slowed down a few distance away from the police checkpoint.
When the motorcycle slowed down, an unknown non-APST man of around 30 years of age came running towards the police team in an injured condition. He requested the police to rescue him and his brother from the clutches of the two unidentified miscreants who were escorting them.
Acting swiftly, the police team chased and apprehended the two miscreants.
The injured victim, Suresh Saha, revealed that he, along with his brother Deepak Saha was on the way to Deomali from Margherita on a motorcycle. While they were about to reach the Namsangmukh IRBn camp, they were stopped by two unidentified persons.
When they stopped, the unknown persons threatened them and demanded Rs 5,000. When he said that they did not have the money, the miscreants thrashed him. Thereafter, the miscreants snatched his mobile phone along with his brother's.
After torturing them physically and mentally for at least an hour, the culprits escorted them towards an undisclosed location. When they were approaching the Deomali township area, they unexpectedly came across the police checkpoint positioned at the NCI bridge, where both the victims were rescued by the police team.
The police apprehended Winjat Sawin (25) and Winphe Sawin (24), of Mopaya village, and retrieved the looted articles.
A criminal case has been registered against the perpetrators. (DIPRO)