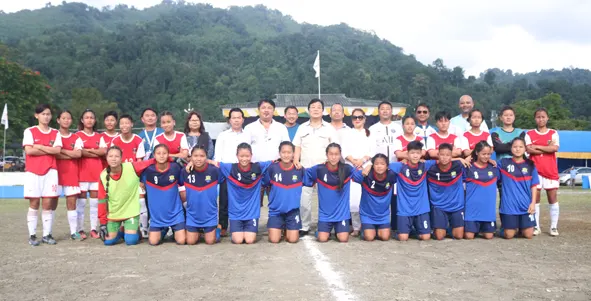 ROING, 3 Jun: Lohit became the champion in the girls' football tournament for the Hangpan Dada Memorial Trophy (HDMT) in the final match played at the general ground here in Lower Dibang Valley district on Friday.
Lohit defeated Kra Daadi, with Angel Tayeng scoring the winning goal for Lohit in the 48th minute.
In volleyball, the Kra Daadi girls' team entered the final after defeating Anjaw 25-23, 11-25, 23-25, 25-20. In the final match, Kra Daadi will face Lohit, which defeated Shi-Yomi 25-22, 25-15, 25-18 in the semifinal match.
In boys' volleyball, Lower Subansiri entered the final, defeating Kamle by 25-22, 25-18, 25-18. Lower Subansiri will square up against Kra Daadi, which defeated East Kameng 17-25, 25-21, 20-25, 25-13, 15-8 in the semifinal match.
The final match of the boys' football tournament will be played between Longding and Kra Daadi.