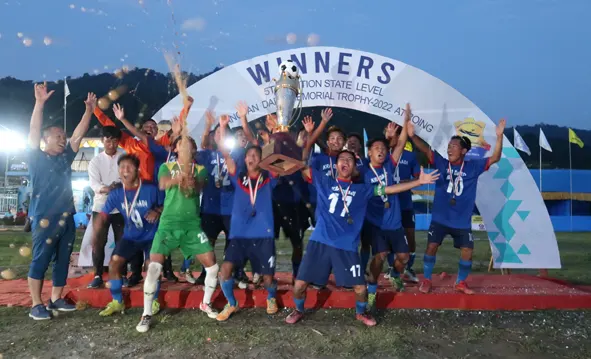 [ Karyir Riba ]
ROING, 4 Jun: Kra Daadi beat Longding by two goals in the final match to lift the 5th Hangpan Dada Memorial Trophy (HDMT) in the boys' football tournament here in Lower Dibang Valley district on Saturday.
The scorers were Tarh Tallar and Puji Neelam.
Kra Daadi also won the volleyball finals in both the girls' and the boys' categories. The Kra Daadi girls' team defeated Lohit 15/25, 25/20, 25/11, 25/21, while the boys' team defeated Lower Subansiri 17/25, 25/16, 25/9, 25/11.
Sidamiu Tawsik from Lohit was adjudged the best player in volleyball in the girls' category, and Ngumar Dabi from East Siang was adjudged the best player in the boys' category.
In football, Angel Tayeng (girls' category) from Lohit and Tallar Tarh (boys' category) from Kra Daadi walked away with the awards.
The closing ceremony was attended by Sports Authority of Arunachal Chairman Byabang Taj, Arunachal Pradesh Football Association secretary-general Kipa Ajay, Roing MLA Mutchu Mithi, Sports Director Tadar Apa, Lower Dibang Valley DC Soumya Saurabh, and Longding DC Bani Lego, among others.
Family members of Ashok Chakra awardee (posthumous) Hangpan Dada also attended the event.
Dada's brother, Tekap Dada, spoke about the martyr and his martyrdom. "We thank the state government for giving such a befitting tribute to Hangpan Dada. With such initiatives, sense of patriotism may be infused into the youths of Arunachal and the nation as a whole," he said.
Taj in his address said, "Stress is being given on improving the sports sector in the state and changes can well be seen. We have been given a target to ensure participation of our sportspersons in the coming Olympics. Roadmaps have been made for achieving the goal and the government is ready. We are hunting for talents in every corner of the state. It is hard to find platforms, and so platforms are being created for players through such tournaments.
"The DSOs of every district should make the authorities aware of talented players from their respective districts," he said, and advised the youngsters to refrain from using drugs.
Mithi said that the Hangpan Dada Memorial Trophy football and volleyball tournaments are "the biggest sporting event of our state.
"Lower Dibang Valley feels pride to have got the chance to host the event here this year. We thank everyone involved for making this happen," he said.
Mithi advised the losing teams to not be dejected. "More important than winning or losing is the experience that you have gained by participating and the things you have learnt through this journey," he said.
The sports director and the DC also spoke.