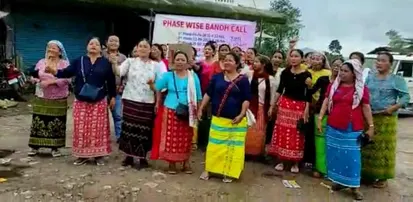 Staff Reporter
LIKABALI, 6 Jun: Agitated over the deplorable condition of the stretch of the Akajan-Likabali-Bame two-lane road from the army camp to Yirdum in Garu village in Lower Siang district, several women's groups jointly imposed a 12-hour chakka bandh here on Monday, demanding early completion of the road.
The women's groups comprise members from Sigin, Aagam, Dudum and Garu, besides SHG Yirne Ane. They had declared the agitation on 1 June.
Members of the groups sloganeered against the National Highways & Infrastructure Development Corporation Limited (NHDICL) and the Mellenium Company, which is executing the 33-km-long stretch of the road.
"Fulfil our demands. We need better road," shouted the women, protesting over the poor condition of the road.
The Akajan-Likabali-Bame road falls under Package 2 of the NHDICL project. The stretch in question is considered to be one of the worst on the Likabali-Basar-Aalo road.
The women's groups also threatened to launch a second agitation if their demands are not met within the stipulated time.
Their demands include immediate shifting of electric poles, completion of GSB, retaining walls, breast walls and culverts, and regular maintenance of the road.
"Our chakka bandh peacefully passed off. The Mellenium Company has assured to fulfil our demands. Our second phase of agitation is on 13 June. If the company fails to meet our demands, we will continue with our second phase agitation of a 24-hour bandh call," said Yomgam Karlo, one of the participants.
Representatives of the Mellenium Company reportedly met the protesting women's groups and assured them that their demands would be met.
"We met women groups at site. We have assured them to fulfil their demands, hence matter now is resolved," said  Mellenium Company manager N Hemant Kumar.
Sources informed The Arunachal Times that the NHIDCL's regional office in Itanagar has held a meeting over the issue. It is learnt that the NHIDCL managing director expressed discontent over the submission of extension of time (EOT) by the contractor and directed the contractors and officers to submit the latest EOT by 12 June.
This daily sent queries via WhatsApp to the NHIDCL's PMU-Basar General Manager Pradeep Gairola, but Gairola did not respond.