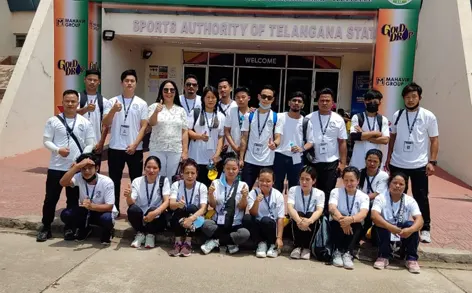 ITANAGAR, 7 Jun: Arunachal Pradesh bagged 4 silver and 9 bronze medals in the 44th National Arm Wrestling Championship, which concluded at the Gachibowli indoor stadium in Hyderabad, Telangana, on Sunday.
Kirba Lollen, Henri Bam, Katu Yomcha and Pakjar Taipodia won the silver medals.
Lollen won his medal in the men's youth 80 kg category, while Bam and Yomcha bagged one silver each in the junior girls' 80 kg and senior women's 70 kg category, respectively.
Taipodia won the fourth silver medal in the women's master 80 kg category with right hand. Playing with left hand, she also bagged a bronze medal in the same category.
Yomcha also bagged a bronze medal in her weight category with right hand.
The other bronze medal winners were Moli Ngomdir, Dammam Yomcha, Kanu Yomcha, Jumse Ete and Ibi Lollen.
Ngomdir won in the men's 90 kg category and (Dammam) Yomcha in the junior girls' 50 kg category.
(Kanu) Yomcha won a bronze medal each in the youth girls' 50 kg and the senior women's 50 kg categories, while Lollen won one bronze medal each in both left and right hand events in the senior women's 65 kg category.
Ete won her bronze in the senior women's 60 kg category.
Taipodia, who is also the general secretary of the All Arunachal Pradesh Arm Wrestling Association, was the coach and Katu Yomcha was the manager.
Over 1,000 arm wrestlers from 23 states participated in the championship.
The gold and silver medal winners will represent the country at the 43rd World Arm Wrestling Championship, to be held in Turkey in October.