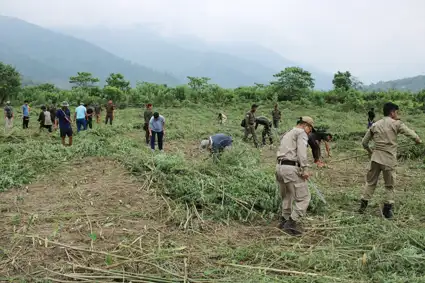 SEPPA, 9 Jun: Approximately 12 acres of wildly growing cannabis were destroyed by the East Kameng and the Pakke-Kessang police recently.
Large tracts of wild cannabis were growing in the area bordering Sede village. The villagers destroyed them with the help of police personnel on 7 June.
The GBs of both the districts have been engaged to spread awareness and ensure that wild cannabis is not allowed to grow from the next season.
The police team comprised DSP Sepraj Perme and RI (P) Inspector Tumki Loya. Magistrate David Koyu also accompanied the team. (DIPRO)