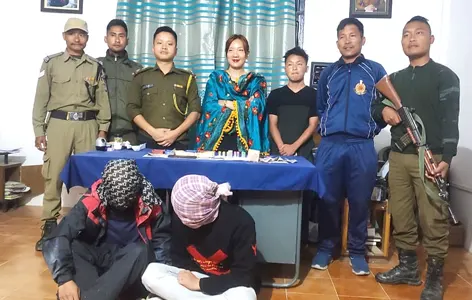 ZIRO, 10 Jun: The Lower Subansiri police detained two persons on the charge of peddling drugs on 9 June.
The arrest was made after a police team led by Ziro Police Station OC Tania Uli intercepted a motorcycle (AR-01P-3840), coming from Yazali, at a naka point on Thursday.
On suspicion, the police team asked the pillion rider, identified as Bengia Tony (22), to take out the contents of his pockets. He handed over a cigarette packet and, on being asked, opened it to reveal a plastic vial containing suspected heroin.
The police then detained the two persons on the bike – the other one being the rider, identified as Tai Talar (21) – in the presence of Town Magistrate Toko Anu, and the suspected drug (0.3 gms) was seized along with a 12 ml syringe and the motorcycle.
The suspects have been detained at the Yachuli police station, a case under Section 21 (A)/27 of the NDPS Act has been registered, and SI T Uli has taken up the case for investigation.
Earlier, on 8 June, two suspected drug peddlers, identified as Taku Gyati (22) and Kago Nado (22), who were coming from Itanagar on a scooter (AR-01L-2769), were apprehended by a naka party. Rs 9,400, along with 12 vials, plastic containers containing suspected heroin (weighing 21.36 gms), two mobile handsets and the scooter were seized from their possession.
A case under Section 22 B/27 of the NDPS Act has been registered against them at the Yachuli police station, according to a release from Ziro DSP Tasi Darang.
It may be mentioned here that, immediately after joining as the Lower Subansiri SP, Sachin Kr Singhal instructed all officers and personnel to put more effort into fighting against drug peddling in the district. It was at his initiative that several nakas have been set up in different locations of the district.