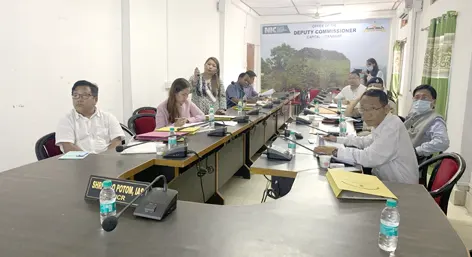 ITANAGAR, 10 Jun: Issues pertaining to the functioning of Childline Itanagar, and the challenges faced by it, were discussed during a meeting of the Childline Advisory Board here on Friday.
Attending the meeting, ICR DC Talo Potom assured that the district administration would provide all support to Childline. He urged the stakeholders to work as a team to further improve the functioning of Childline Itanagar.
"Thrust should be given on awareness as the people are still unaware about the services of Childline," Potom said.
ICR SP Jimmy Chiram said that he would extend cooperation and support to the Childline team in generating awareness. The SP also explained "the process of rescue through Childline."
Childline coordinator Elizabeth N Tangjang presented a brief on the services and activities of the Childline.
She informed that "Childline Itanagar has attended a total of 117 cases since September 2021 in various categories, such as medical assistance, rescue and restoration, core and protection, emotional support and guidance, POCSO, child marriage."
"Childline Itanagar attends to calls referred by Childline contact centre, produces child before the Child Welfare Committee and the rescued children are then placed at shelter homes. The Childline then starts tracing of the parents and follow-up on cases is done from time to time. It also organises outreach programmes, awareness generation programmes, etc," she said.
Other issues and challenges faced by Childline Itanagar were also discussed.
Children's Home superintendent J Tangjang presented a brief on the status of the rescued children who have been given shelter at the home run by the Oju Welfare Association.
Childline is India's first 24-hour free emergency phone and outreach service for children in need of care and protection. Any child or concerned adult can dial 1098 to avail its emergency assistance.
In Itanagar, the Don Bosco Youth Centre is working as a collaborative organisation of Childline.
EAC Tamo Dada, DMO Dr Mandip Perme, Childline Director Sunny Minz and representatives of Childline Itanagar and the BSNL attended the meeting. (DIPRO)