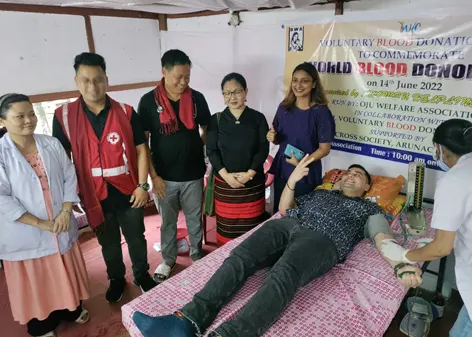 NAHARLAGUN, 11 Jun: Eighteen units of blood were collected during a voluntary blood donation camp organised by the Oju Welfare Association (OWA), in collaboration with the Arunachal Voluntary Blood Donor Organisation (AVBDO), the TRIHMS blood bank and the state branch of the Indian Red Cross Society, in the OWA campus here on Saturday.
The camp was held in the run-up to the World Blood Donor Day.
Addressing the donors, AVBDO chairman Ramesh Jeke Tatung termed blood donation "the greatest gift a human being could give to save lives of his/her fellow beings."
Arunachal Pradesh requires about 15,000 units of blood but only 5,000 units are collected annually, leaving a deficit of about 10,000, which underscores the importance blood donation without
any fear, he said, adding that such donation helps the metabolism of the donors to generate fresh blood, "besides numerous health benefits, like less chance of heart attack."
"I have already donated 63 times and why not you?" Jeke said.
OWA chairperson Anya Ratan lauded the donors and all those who helped in conducting the camp.
SIC Inspector Bomchu Krong and Banderdewa PS Constables Tanam Lungte and Dolang Ami, who were among the donors, said that it is necessary to donate blood to save lives.
"Lungte, who is blessed with the rare AB+ blood group, had donated blood in September last year and thereby saved the life of a destitute woman who had given birth to a healthy girl," Ratan informed.