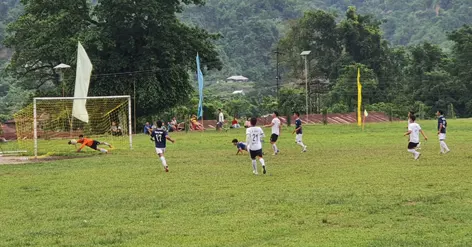 ITANAGAR, 12 Jun: Paatii B FC and Khokhung B FC won their respective matches in the veteran category of the Capital Complex Dree Festival Committee (CCDFC)-2022 Football Tournament on Sunday.
Paatii B FC defeated Mikho-Bo by 5-3 goals, while Khokhung B FC beat Being Friends FC 4-0.
Paatii B FC's captain Hage P Gambo, who scored a hat-trick of goals for his team, and Khokhung B FC's Rubu Bath were adjudged the 'heroes of the matches'.
Earlier, Doni Sporting FC defeated Yapung Yaper FC 4-2 in the open category.
Tage Kano, who scored two goals for Doni Sporting FC, was declared the 'hero of the match', according to the organising committee.