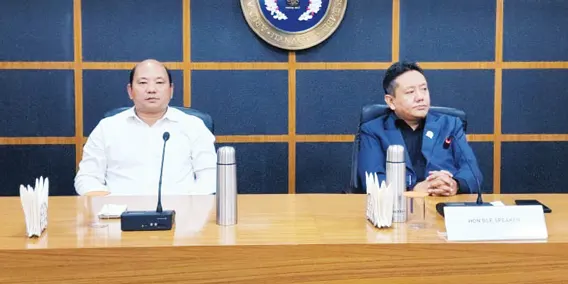 ITANAGAR, 13 Jun: Legislative Assembly Speaker PD Sona on Monday urged all the HoDs and PRI leaders of Shi-Yomi district to work in unison for overall development of the district.
He said this while chairing a coordination meeting with the HoDs and PRI leaders of the district at his office conference hall here.
Acknowledging that the officials posted in the remote district are facing numerous hardships due to various factors, Sona, who represents the district in the legislative assembly, urged the HoDs to "overcome the same and work for the greater interest of the district," describing the HoDs as "the backbone of the government."
Sona advocated coordinated efforts by every government official and panchayat member to fulfil the aspirations of the public.
Stressing on development of the agriculture, horticulture and other allied sectors in the district, Sona suggested to the departments concerned to ensure that the government's schemes reach the genuine beneficiaries.
ZPC Yadom Tapo, Mechukha ZPM Maling Koje and Monigong ZPM Tagam Jempen requested the government officials, especially the HoDs, for their support and guidance in implementing various projects and schemes in the district.
The HoDs also took part in the discussion and placed the grievances and issues confronting their departments in the district, such as absence of ministerial staff, staff quarters, accommodation, etc.
Shi-Yomi DC Mito Dirchi gave assurance that his administration would provide full support to overcome the challenges being faced by the departments.
He, however, reiterated that "coordinated efforts from PRI leaders and government officials are prerequisite for all kinds of development in the district." (Speaker's PR Cell)