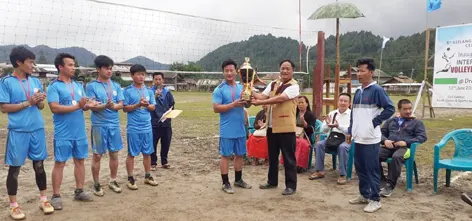 HIJA, 14 Jun: The Nada clan became the champion of the 5th Siilang Ditting Dree Festival Inter-Clan (Hija) Volleyball Tournament-2022, held here in Lower Subansiri district.
Taru Kago Lyalyang was the first runner-up. The fair play team award went to Dani Haj Puna.
Yalyang Tallo was declared the best player of the tournament, while Nada Yakang and Haj Koyang were adjudged the best team coach and manager, respectively.
The closing ceremony on 13 June was attended by TSD general secretary Taku Chatung, CCDFC VC Taku Tath, AHEWA chairman Nada Duri, AHSA chairman Pura Tamo, and members of all Hija-based NGOs, including the AHYA, the PWA, the AHiSU and the AHGBBWA.