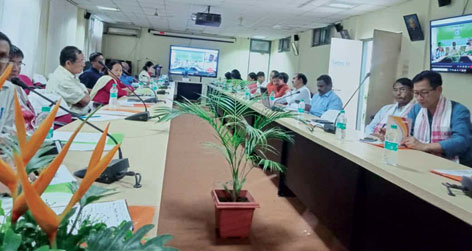 PASIGHAT, 18 Jun: Fifty participants, comprising line department officials, progressive farmers, faculty members of the College of Horticulture & Forestry (CHF) and scientists from the COA, the KVK, the MTTC and the VTC attended an 'interface-cum-college extension advisory meeting' at the CHF here in East Siang district on Friday.
Addressing the inaugural session, CHF Dean Prof BN Hazarika apprised the participants of the "mandate of teaching, research and extension education activity of the CHF" and highlighted "the salient achievements and role of the college for the benefit of the stakeholders of the farming community of Arunachal Pradesh."
Imphal (Manipur)-based Central Agriculture University's (CAU) Deputy DEE Dr Deepak Nath focussed on identification of farmers' training needs and effective extension approaches and methods. He also emphasised on the "impact assessment of farm technology in the Northeast region."
CEAC external member Dr HC Bhattacharyya said that "this is the real time to address the stakeholders of the farming community in the PPP mode." He also spoke about "natural farming and artificial intelligence in agriculture in NE region."
Dr SRK Singh, external member from Jabalpur (MP)-based ICAR-ATARI, emphasised on "technology adaptation which is suitable to agro-ecological situation of NE region." He said that the need of the hour is to "address impact framework, effect of interventions, nutri-smart villages, village knowledge-based system, social institute building system, and database of farmers of the NE region."
CAU Dean Dr AK Tripathi dwelt on "development of extension framework with line departments in convergence mode," while the East Siang district agriculture officer, the horticulture development officer, the GTC principal and the district training officer discussed farm-related problems in East Siang district.
Among others, the CHF's Social Science HoD Dr LD Hatai also spoke.