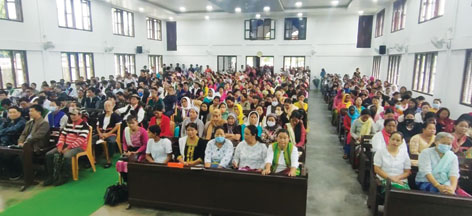 [ Karyir Riba ]
ROING, 18 Jun: Over 2,500 members from various churches in Lower Dibang Valley district participated in a peaceful protest rally organised by the Dibang Christian Forum (DCF) here on Saturday to express solidarity with the Christians in Tawang district.
"This peaceful democratic protest rally was organised in the district headquarters to show solidarity towards the Christians of Tawang, who are suffering persecution by being denied a place of worship there," DCF president Israel Megu said.
He said that the church in Tawang was already functioning since 1999. "However, when the church members started to rebuild a permanent structure for their worship in 2019, the local administration intervened and obstructed the construction work after completion of 60 percent of construction of the church building. In spite of repeated appeals by the Arunachal Christian Forum (ACF) to the state government, the same has been lying unaddressed till date," he said, adding that "even the latest report submitted by the three-member committee constituted by the government was found biased and unacceptable to the Christian community."
"The DCF stands firmly with the ACF until the state government resolves the Tawang church issue amicably," Megu added.
Similar rallies were taken out in other districts of the state, except in Tawang, Anjaw and Dibang Valley.
More than 400 Christians joined the rally in Lohit district, while a large and peaceful rally was organised by the Sagalee Christian Forum in Sagalee in Papum Pare district over the Tawang church issue. The Namsai Christian Forum also took out a protest rally in Namsai. Staging of a huge but peaceful rally was also reported from Tirap district.
Meanwhile, informing that the protests in the districts were peaceful and successful, ACF president Toko Teki said that thousands of people turned up for the rally in the capital region, from Akashdeep to IG Park in Itanagar, on Saturday.
He informed that the ACF will very soon convene a meeting with all the Christian organisations regarding what steps can be taken to have their grievance redressed by the government.
Earlier, on 23 May, the three-member high-power committee on the Tawang church issue, headed by Environment Forest & Climate Change Minister Mama Natung and including MLAs Nyamar Karbak and Nyato Dukam, submitted its report to Chief Minister Pema Khandu, stating that the state government may comply with the verdict of the Supreme Court "to strictly follow the Unauthorised Religious Structures (Regulation, Removal and Relocation) Policy-2010."
The committee also said that time should be granted for relocating the church to another place in Tawang; that the criminal cases be withdrawn, and the provisions of the Arunachal Pradesh Public Premises (Eviction of Unauthorised Occupants) Act-2003 and protection of religious structures constructed on legally acquired land be ensured. (With inputs from sources)