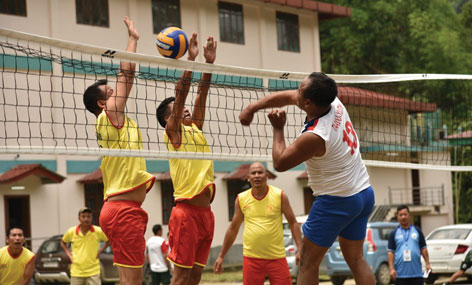 ITANAGAR, 22 Jun: Taayu Youth Club will meet Dodu Club in the final of the men's volleyball tournament organized as part of the Dree celebration by Capital Complex Dree Festival Celebration Committee-2022.
In the semi-finals, Taayu Youth Club and Dodu Club defeated their respective opponents HCCC-A and Paatw Team by an identical 2-0 sets.
In the knockout round, HCCC- A, Taayu Youth Club and Dodu Club had beaten Naharlagun Yaapa, HCCC-B and Mikho-Bo respectively.
In the women's category, Paatw and Team 80's reached the finals.
The finals will be played on 23 June.
Earlier, attending the opening ceremony of the tournament, ICR DC Talo Potom exhorted the teams to maintain the spirit of sportsmanship throughout the game.
Stating that a large number of the community resides in Capital Complex, Potom opined that the government should consider granting holiday for Dree celebration in Itanagar Capital Region also.