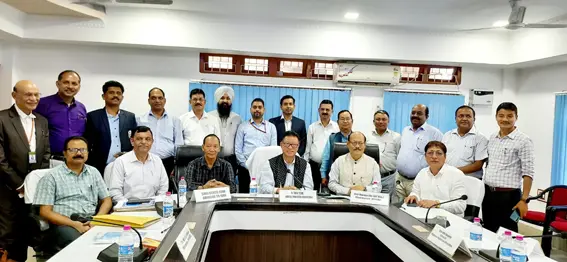 ITANAGAR, 23 Jun: "Education is the only means to develop good human beings, and all stakeholders should work like a team to provide quality education to every student of the state," said Education Minister Taba Tedir.
He said this during a meeting with the vice chancellors and registrars of all the private universities, along with the chairman and a member of the Arunachal Pradesh Private Educational Institution Regulation Committee (APPEIRC), the higher & technical education director and others, on Thursday to review the functioning of such universities.
"The infrastructure setup and other regulatory compliances must be met by all the private universities, and the quality and standard of education must be of the highest standard," Tedir said.
He also said that, if any private university needs any support from the National Assessment & Accreditation Council (NAAC), he would extend all possible assistance pertaining to NAAC assessment and accreditation.
Nari-Koyu MLA Kento Rina, who is also the adviser to the education minister, suggested to the teaching fraternity to "deliver one's duty according to the established norms and not compromise with the quality of education."
Education Commissioner Padmini Singla highlighted the role of the private sector in providing education to students, and requested the universities to "achieve the targets of 2022-23 under the National Education Policy-2020."
She provided a list of 16 "actionable points as circulated by the higher education department for proper implementation of NEP-2020 provisions in the state."
APPEIRC Chairman Marnya Ete, APPEIRC member HK Sardana and Higher & Technical Education Director Alik Jongkey also spoke.
The vice chancellors of all seven private universities in the state made presentations regarding the activities and achievements of the varsities.