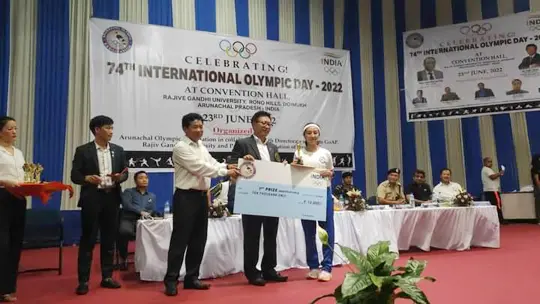 RONO HILLS, 23 Jun: Athletes and coaches were felicitated by the Arunachal Olympic Association (AOA) on the occasion of the International Olympic Day, which was celebrated across the state on 23 June.
The day is celebrated to commemorate the day when the International Olympic Committee was founded in 1894, and it is aimed at promoting participation in sports across the globe, regardless of age, gender, or athletic ability.
The AOA celebrated the day at Rajiv Gandhi University (RGU) here, in collaboration with the sports directorate, RGU, and the Paralympic Association of Arunachal.
Altogether 117 athletes and coaches of various sports disciplines who earned gold, silver and bronze medals during 2021-2022 were felicitated.
A 7-km marathon, themed 'Run for sports & peace' was also conducted. It saw the participation of hundreds of people from all walks of life, young and old, who ran from the government secondary school in Chimpu to the Nyokum Lapang ground.
In the women's open category, Joti Mane completed the marathon in 45 minutes, followed by Yabang Tali (47 mins), Pomen Teppa (54 mins), Abina Doley (54 mins) and Yanyang Pullon (54 mins).
In the men's open category, Harang Cheri completed the marathon in 38 minutes, followed by Tangu Ngomle (39 mins), Habung Nyppa (40 mins), Zuyu Hinda (40 mins) and Bamo Tanang (41 mins).
Dr Kago Gambo, Tai Hipik, Kyom Tamin and Kangun Jamoh were awarded consolation prizes in the veteran and the U-9 categories.
Education Minister Taba Tedir, who is also the AOA president, said that "the purpose of the Olympic movement is always to promote peace through sports."
AOA senior vice president Abraham K Techi said that "sports always build bridges and bring people together in peace and solidarity."
"In these difficult times we are living through, with conflict and division on the rise, we need this unifying power of sports more than ever before," he said, and added that "this Olympic spirit guides us as we strive to go faster, aim higher, become stronger by standing together for a peaceful world."
The celebration also witnessed the signing of an MoU between RGU and the AOA, appointing RGU as the association's 'nodal consultant'.
RGU Pro-VC Prof Amitava Mitra, IGP Chukhu Apa, RGU Registrar Dr NT Rikam, and IQI COO Madhukar Rakhechaa also spoke, informed AOA general secretary Bamang Tago.
Earlier, Tedir inaugurated a mini-indoor sports hall and a shooting range in the RGU premises.
RGU's physical education faculty member Dr Tadang Minu, who initiated the inauguration of the shooting range, said that she had "always been seeing young men using airguns to kill birds, which was unquestionably wrong, but now, with this facility, they can get professional training without harming the birds and get acknowledgements and recognition for their talents."
In East Siang, the District Olympic Association organised a mini-marathon with the theme, 'Say no to drugs' in Pasighat to mark the day. Around 70 U-25 school and college students participated in it. (With DIPRO input)