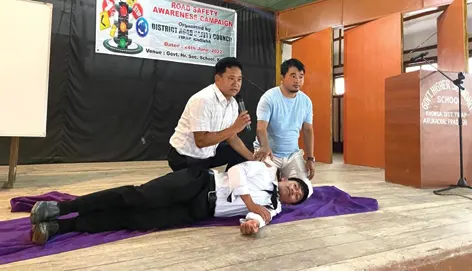 KHONSA, 24 Jun: The Tirap district administration, in collaboration with the district transport department, on Friday conducted a road safety awareness meeting involving students, teachers and various NGOs at the GHSS here.
During the programme, DTO Aman K Wangsaham highlighted the rules on the roads and the dos and don'ts to be followed.
Khonsa PS OC Inspector Hangrang Bangsia informed the participants about the penalty for violation of MV rules and regulations.
Bangsia also encouraged the people to help accident victims without any fear and hesitation, saying that "the ministry of road transport and highways has issued guidelines for protection of Good Samaritans as per the Supreme Court's directions."
DMO (in-charge) Dr O Taggu demonstrated how to take care of an injured person, while CO Pik Tayom advised drivers to avoid drunk-driving, and urged those riding two-wheelers to wear a helmet.
More than 500 students attended the awareness meeting. (DIPRO)