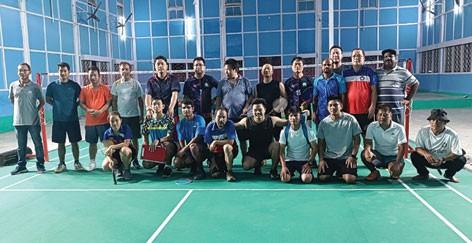 RONO HILLS, 26 Jun: The officers' club of Rajiv Gandhi University (RGU) here celebrated the International Olympic Day (IOD) by organising a badminton tournament from 24-25 June.
Eleven teams participated in the tournament, which featured competitions in men's doubles events.
In the final match, ML Sharma and Diawang Lowang emerged the winner after edging past the pair of Dr David Pertin and Mundeep Deuri 21-17, 19-21 and 21-19. The pairs of Tanil Tabang and Jumli Kato, and Dr Anil Mili and Kulenso Pul made it only to the semifinals.
The trophies and cash prizes were given away by RGU Registrar Dr NT Rikam, who in his speech said that "the university is putting out all its efforts to provide arenas and platforms in the campus."
Commending the players' sportsmanship spirit, he assured to "initiate and extend all possible support to make games and sports facilities improved in the campus in the days to come."
The officers' club's chairman Prof Gibji Nimasow and RGU Joint Registrar Dr David Pertin also spoke.