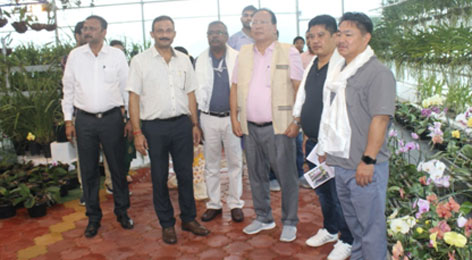 KIMIN, 26 Jun: Science & Technology (S&T) Secretary Remo Kamki, along with Arunachal Pradesh State Council for Science & Technology (APSCS&T) Director CD Mungyak and senior officers of the S&T department visited the Centre of Excellence for Bioresources and Sustainable Development (CoE for BRSD) here in Papum Pare district on Saturday.
During the visit, Kamki advised young scientists to "work hard day and night to achieve their goals" and lauded the efforts made by the scientists and officers of the CoE for achieving excellence in the fields of bioresources and biotechnology by exploring natural resources of the state.
Earlier, during a review meeting, CoE for BRSD Project Director Dr Debajit Mahanta presented a brief on the achievements made by the centre, "including the state-of-the-art orchid conservatory, aroma plants and their utilisation, banana fibre and its applications within short duration since October 2018 till date."
Consultant Dr T Madhan Mohan said that the CoE "could be a role model in terms of infrastructure, researchers and relevant resources." He also highlighted the DBT-sponsored 'skill vigyan programme in life sciences and biotechnology' implemented in the state by the CoE.
Mungyak said that the State Remote Sensing Application Centre is working on the interstate boundary issues by utilising the advanced state-of-the-art remote sensing and GIS technologies.