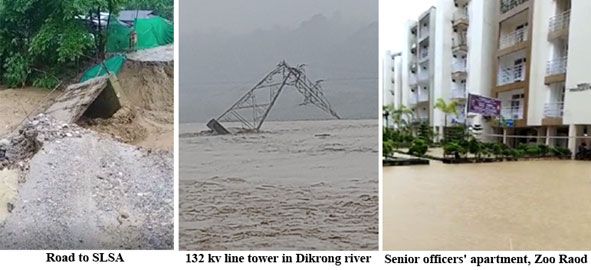 Staff Reporter
ITANAGAR, 28 Jun: Floods and landslides caused by incessant rainfall reportedly claimed at least five lives in different locations in and around Itanagar on Tuesday.
With the loss of the five people, the total number of people killed in floods across the state stands at 17.
Heavy rainfall on Tuesday morning led to numerous landslides and flashfloods in the capital city and across the state. Roads have been snapped, the highway was blocked and bridges were swept away by floods.
Sources in the disaster management department informed that a 36-year-old woman, identified as Sangio Yapa, was reportedly killed in a landslide at around 12:30 pm on Tuesday in Takar Colony, Naharlagun.
After hours-long battle, personnel of the SDRF and the NDRF, along with the capital police, pulled out the woman's body.
It is also learnt that a 19-year-old girl in Huto village, identified as Hillang Boni, reportedly died when a flashflood swept away her house into the Hollongi river. Two minor boys are also reportedly missing, while one has been rescued alive.
Papum Pare DC Sachin Rana informed that nine people of the Hillang family were affected when the flashflood hit their house.
Five people reportedly managed to escape. However, four people, including two minors, were swept away. Twenty-four-year-old Hillang Rade was rescued alive by the NDRF and SDRF personnel downstream of the river. Two houses were reportedly damaged in Huto village.
A labourer was also reportedly buried alive by a landslide near the airport water treatment plant near Kokila village in Balijan administrative circle of Papum Pare district.
The labourer's body was later pulled out from the debris and sent for medical formalities before being handed over to the deceased's family.
Reportedly, four houses were also damaged in Kokila village.
The Papum Pare DC appealed to the citizens to be vigilant and relocate to safer places. "In case of emergency, all are advised to contact the district disaster management authority," Rana said.
Meanwhile, in West Siang district, one person was reportedly killed in a landslide that occurred along the TAH Package 9, near Darka village.
According to the disaster management department, 94 villages and 11,082 people have so far been affected by floods in the state. About 538 houses have reportedly been damaged across the state. Out of these, 215 houses have been fully damaged, 70 have been severely damaged, and 253 have been partially damaged.
Floods also damaged power supply lines in various locations of the state.
Power Department Transmission Division II Executive Engineer (E) Hibu Bama informed this daily that a flashflood damaged the Number 12 132 kv line tower at Dikrong on Tuesday. "The buckling of the tower has affected the 132/33 kv Nirjuli substation via 132/33 kv Lekhi substation and has been temporarily shut down till complete restoration," Bama informed.
However, he said that the areas where power is being supplied through this transmission line are not affected as there are alternative transmission lines feeding power to the Lekhi and the Nirjuli substations through the 132 kv Chimpu-Lekhi and the 132 kv Gohpur-Nirjuli transmission line, respectively.
"If weather permits and the water level of the Dikrong river recedes, transmissiin system shall be normalised by reviving the old 132 kv line-in-line segment within one week," Bama added.