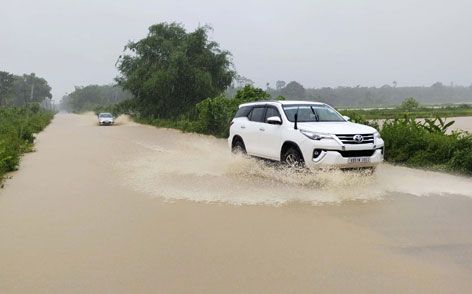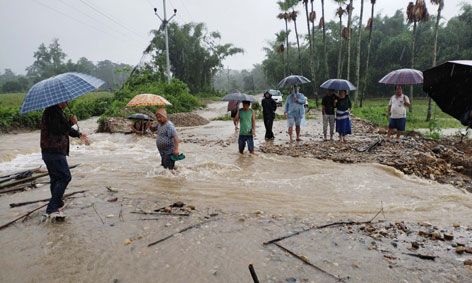 [ Prafulla Kaman ]
PASIGHAT, 28 Jun: The rise in the water level of the rivers and perennial streams following torrential rain for the last two days has triggered a flashflood in East Siang district.
The surging water of the Poglek river inundated paddy fields in Yagrung and Rani villages, causing damage to standing crops.
Overflowing river water is also creating inconvenience in terms of traffic movement at two locations of National Highway 515, between Sille-Teromile and Rani village.
Overflowing water of Latu Nallah breached the Mirem-Mikong-Jonai (MMJ) road near Mirem village on Tuesday morning, and cut off road communication between Mikong and Mirem villages.
 It also damaged a large area of paddy cultivation in a WRC field in Latu (Rikmeng).
In Mikong, the turbulent Mikong Nallah eroded a portion of the MMJ road and damaged the RCC culvert. Moreover, rainwater rolling down the hills is flowing over the MMJ road at several points, causing hardship for commuters.
Meanwhile, a landslide caused by heavy rain blocked the Mikong-Bilat RWD road on Tuesday morning. It was cleared by afternoon by local youths, using an excavator.
The Siang river was also flowing at the danger level at Pasighat at the time of filing this report.
The district administration has alerted people not to go to riverbanks for any purpose. The administration has also barricaded and closed the Pasighat-Pangin highway at the Sille Korong point after turbulent river eroded the abutments at both ends. Vehicular movement on the road has been prohibited until further orders.
Rainwater has also inundated many areas in Pasighat town, including the market, Police Colony and Banskata, creating hardship for the urban dwellers.
Several hectares of cropland and low-lying areas in Pasighat and Ruksin subdivision are inundated.
The incessant rain is also creating immense problems for schoolchildren, officer-goers and the business community.