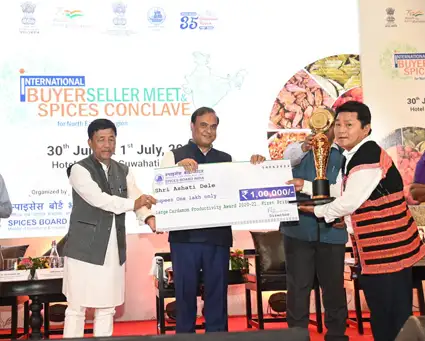 GUWAHATI, 30 Jun: Farmers from Arunachal Pradesh bagged four out of six awards for the years 2019-20 and 2020-21 for large cardamom production, at the 'International Buyer Seller Meet & Spice Conclave' underway here in Assam.
The farmers who received the awards are Neelam Jeel (first prize, 2019-20); Ngurang Yame (second prize, women category, 2020-21); Joram Tamin (second prize, 2021-22); and Ashati Dele (first prize, 2020-21).
The two-day conclave, which will conclude on Friday, was inaugurated by Assam Chief Minister Himanta Biswa Sarma.
The event is being organised by the Spices Board India to boost export of agricultural products from the Northeast region.
Addressing the inaugural event, Sarma said that "India has emerged as the world's largest producer, consumer and exporter of large cardamom," adding that the Northeast "has acquired special attention, owing to quality of organic spices."
Arunachal Pradesh Agriculture Minister Tage Taki, who also attended the event, said that, "in its 35 glorious years of service to the nation, the Spices Board has become instrumental in development, promotion and regulation of spices production and trade in the country."
He said that "Arunachal has transformed into one of the major spices producing regions, and hence the Spices Board India should establish a 'spice park' in the state."
Taki also stressed on establishing an 'NE spices centre' in Guwahati, and urged the Spices Board to "help farmers by providing technology, value addition and processing of spices."
He also emphasised the need for a 'spices development agency' in Arunachal to further boost the production of spices in the state.
Arunachal Pradesh Agriculture Marketing Board (APAMB) CEO Okit Palling informed that Arunachal is the second largest producer of large cardamom in the country and has become one of the major spices producing states in the Northeast.
He said that the APAMB would work in collaboration with the Spices Board of India to further boost production of spices in the state.