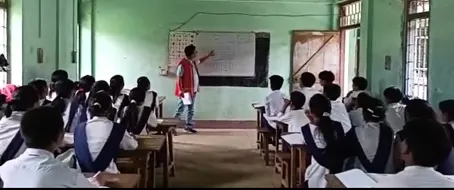 [Karda Natam]
DAPORIJO, 30 Jun: Teaching of the Tagin language has started in the schools in the Tagin inhabited areas of Upper Subansiri district.
The classes began on 16 June in various schools of the district.
Teachers who were trained by the government to teach the Tagin language have been deputed to teach at various schools. The district administration has encouraged private schools also to start teaching the Tagin language.
Tagin language teacher Nope Tamin, of the upper primary school here, informed that "classes have been functioning smoothly and students are keen to learn the subject."
He said that other teachers of the school are also interested in learning the language "as most of them are not comfortable speaking their own language." Tamin added that he himself is coming across many new words in Tagin while teaching.
The headmaster of the school, Maruk Bayor Neba, expressed gratitude to the state government and the Tagin Language Development Committee "for making the mission a success."
"Students and teachers are learning their own native language, which is a landmark in promoting local languages," he said.